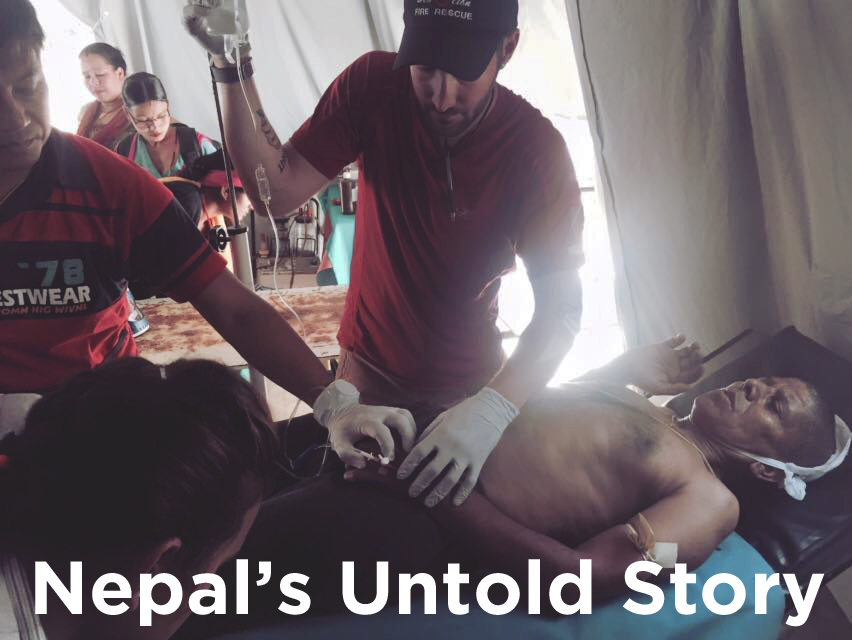 Behind The Scenes: One Month After Nepal Earthquake
The purpose of this blog post is not to speak on behalf of anyone, but the Nepali people who need help. It's absolutely necessary to shine a light on what is not known or seen in the mainstream media.
Nepal One Month After The First Earthquake
My boyfriend, Andrew Moskovitz, along with Josh Korb and Charlie Botwin headed to Nepal on May 17, 2015 in response to a Nepali incident's commander urgent request for qualified aid. Josh Korb, who volunteers in Nepal every year, put together all the logistics and partnered with AISP.  With AISP partnership, friend/family support and business sponsorships, the team headed out.
Nepal Arrival
Upon arriving they were greeted by incredibly grateful people, telling them of the country's hardship, lack of outside support and internal government corruption.
Nepal is a highly spiritual place, where many are buddhist and the people are filled with gratitude. It's the kind of place that makes you question your priorities.
In the quake, most of their most sacred and spiritual temples, many over 1,000 years old, fell.
Kathmandu has to ration both electricity and water. The people are afraid to sleep in their homes. Instead they sleep outside. Monsoon season is coming. They will have nowhere to go.
I don't recall the amount of supplies the team brought with them. I know they stocked up on food, tents, first aid and meds. The small team specializes in emergency medical care. They are able to treat wounds, and outward injuries post-quake.
Nepali Villages
On their first village day, Andrew was already heartbroken and grieving. He stayed busy wanting to help and never helping "enough."
He told me of a 7-year-old girl who told him, "The most beautiful places are the most dangerous places," referring to her village.
I received an early morning text, "Today was so fu@%ing intense. Worked on a man with spiral fracture through both of his bottom leg bones on one side. His grandaughter died in his arms in the first quake. Then I worked on a woman who's only son died in her arms while she dove on top of him trying to save him. Then a boulder crashed into her lower back. No medical care has been here. I had a 78 year old man who heard we were coming and walked 2 days just to get checked out."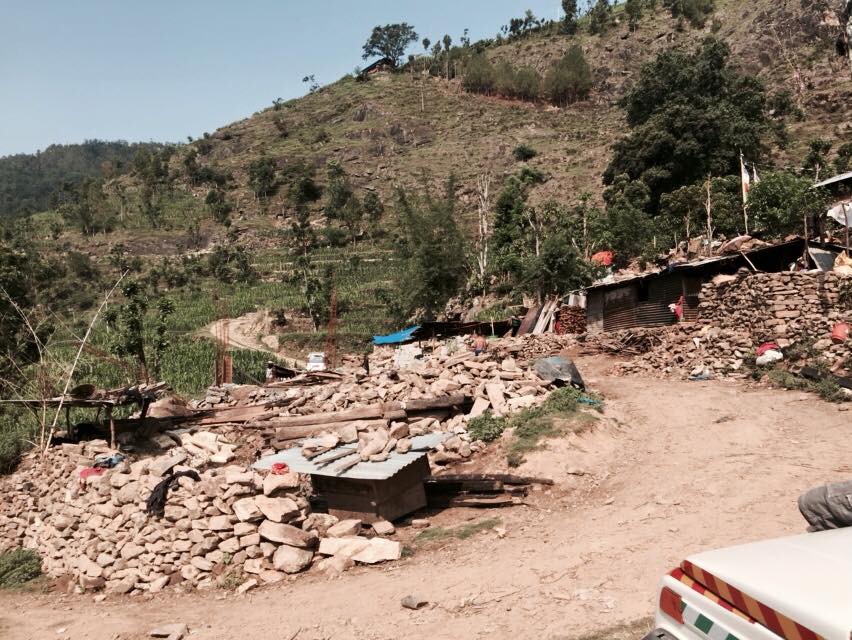 "These people have no food, no homes and nowhere to go."
"Tomorrow we go in the afternoon to a village that lost 57 houses."
The next day, Andrew told me how he treated a baby who needed his leg amputated. He told me of people he treated with the most infected wounds. Flies were hovering around the wounds.  I have not yet seen photos.  They could never be published, due to their inability to pass the "breakfast test" (keeping your breakfast down upon having seen them).
He'd treat the Nepali people; the people would go back to work.  The next day, they'd come back to him asking for more support. When you go to villages with only so much "back-home" support and supplies, the weight of having to ration who you can treat and who you cannot re-treat is heavy.
Andrew's team went to many villages. They worked incredibly long hours treating hundreds (again, who had not been treated from the first quake).
In one village, they stayed overnight. As they were leaving the next day, a young boy ran to them telling them of a family's house that just fell on them.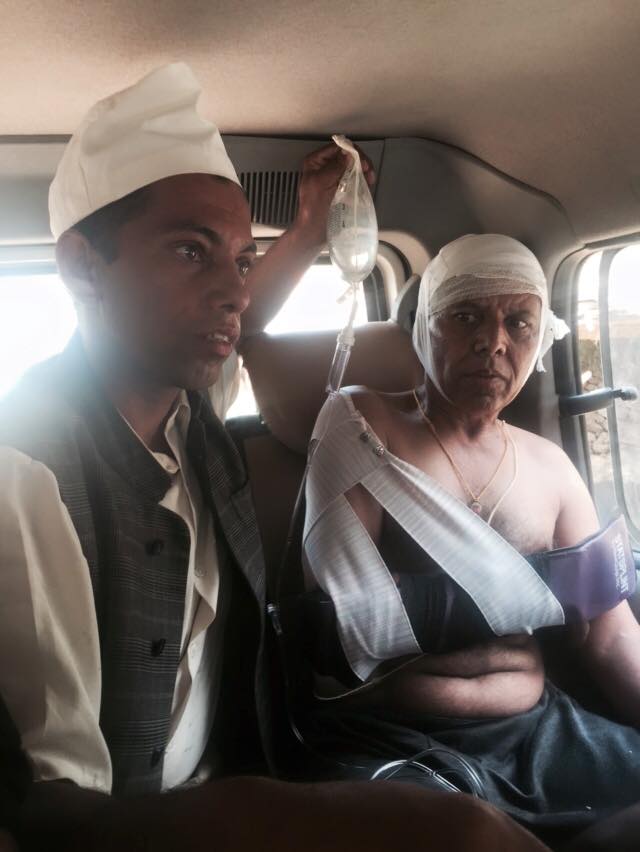 The house didn't fall after the first quake. The family continued to stay in it. Finally, it collapsed. A man had a piece of metal slice through and stick out of his scalp. The team had to take him to a hospital. And then, another hospital, when the treatment was not good enough.
The team  goes to one village who still has not had care. A team of doctors had been there a few days before, but had to turn around after two hours. The drivers were afraid of landslides and told the team of doctors they were going with or without them. The same thing happened to Andrew's team, after 45 minutes of reaching the village. The weather quickly turns, and more people remain untreated.
Andrew asks one family how long it will take to rebuild their home. The family says a year.  Monsoon season is coming up, and that is such a sad story.
Andrew's team quickly runs out of IVs, needles and food. (The people are starving.) The team heads back to Kathmandu to restock.
I hear stories of people who have not eaten for weeks. I hear a story of one such starving woman, who upon being given a bag of rice (both of them with their fair share of tears), asks to cook for Andrew. How can such people exist.
The Untold Story of Nepal Post-Quake 2015
This is the story of people who are dying, silently. If not from the quake, from their wounds, malnutrition and sickness that comes through the rains.
This is the story of people who are not receiving support because there is little interest in their economy and their cause.
In the aftermath of the Japanese disaster, firms around the world rushed in with cash and goods, providing more than half of the total international aid for Japan's relief. But the corporate flow into Nepal has been barely a trickle. During the first several days after the earthquake, business aid arrived at a rate of $5,000 an hour. Compare that to Japan's earthquake, when it was $150,000 per hour.

Japan lost one inhabitant for every 10,000 residents; Nepal, has lost one for every 3,000. The cost to Japan came to about 6 percent of its GDP; the cost to Nepal may be close to 50 percent of its GDP.

While Nepal struggles with the aftermath of two massive earthquakes that have killed more than 8,000 people, only a fraction of the aid that the country needs has been committed by the international community, a United Nations agency said Friday.

So far, only 14% of the humanitarian aid sought by the United Nations for the relief effort in Nepal has been met, according to the U.N. Office for the Coordination of Humanitarian Affairs. That means only $59 million has been committed, of the $423 million requested, since the first quake struck last month.
One of the Poorest Countries
The 7.9-magnitude earthquake in Nepal is affecting an estimated 8m people. With an average GDP per capita of only 692 USD, Nepal is one of the poorest countries in Asia.
While other countries receive a plethora of support, Nepal slowly dies. Not only does the earthquake affect immediate health and mortality, but its influence on tourism will greatly affect these humble people. This will be the second year in a row sherpas will be out of business for leading teams up everest.
I'm writing this story to tell a story. One that isn't being heard. If you would like to help financially, you can change people's lives. $50 will buy a roof for a family's head over monsoon season, not to mention what an amount can do in terms of medical relief and aid.
Please, donate here with donation to auraimports@gmail.com. Your donation will directly go to this Nepal team. Just mention "Nepal relief team 2015."
You can literally save hundreds of lives. Lives you would not have known about, anyway.