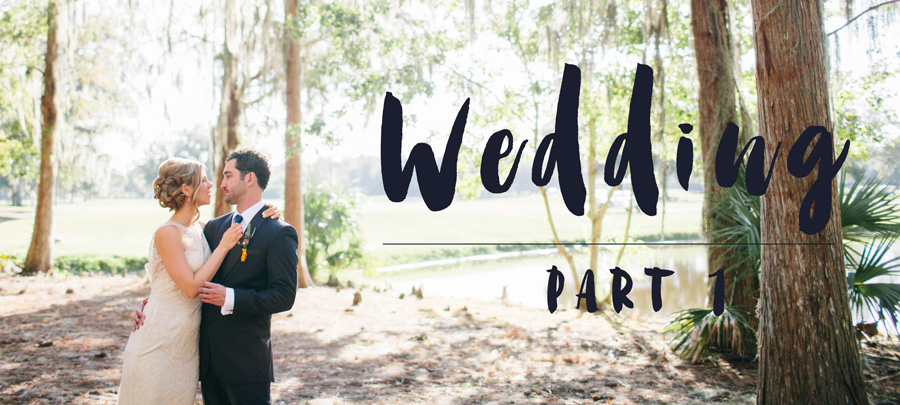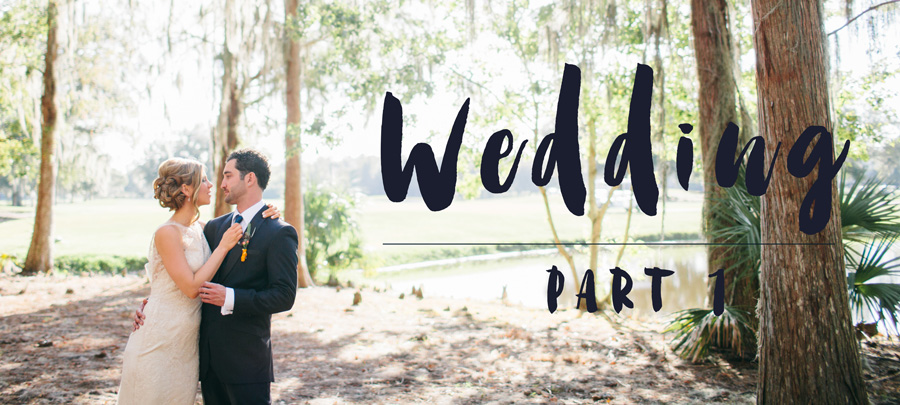 The Day I Became A Moskovitz – P. 1
Wedding Day: The Ceremony
Weddings are HARD.  There is so much emotional hype – planning, pushing, stretching.  If I were to do it all over again, I know we'd choose to elope right from the very get-go.  All this being said, our wedding was amazing and the best day of my life.
We had all these complications with our wedding – from a crab festival booking our ceremony venue 1 month before to the amount of work involved in making this day happen.  
The invitations were fancy, done by Seniman Calligraphy.  (Thank you Ruth.)
They did have a custom return address stamp and wax seal (not shown).
We had people fly in from across the country to share our special day with us.  
We had the ceremony at Innisbrook.  Rick, from Innisbrook, really helped us out and the whole team working there that day really did a beautiful job prepping at the spa.
Each side got ready in a condo on the property.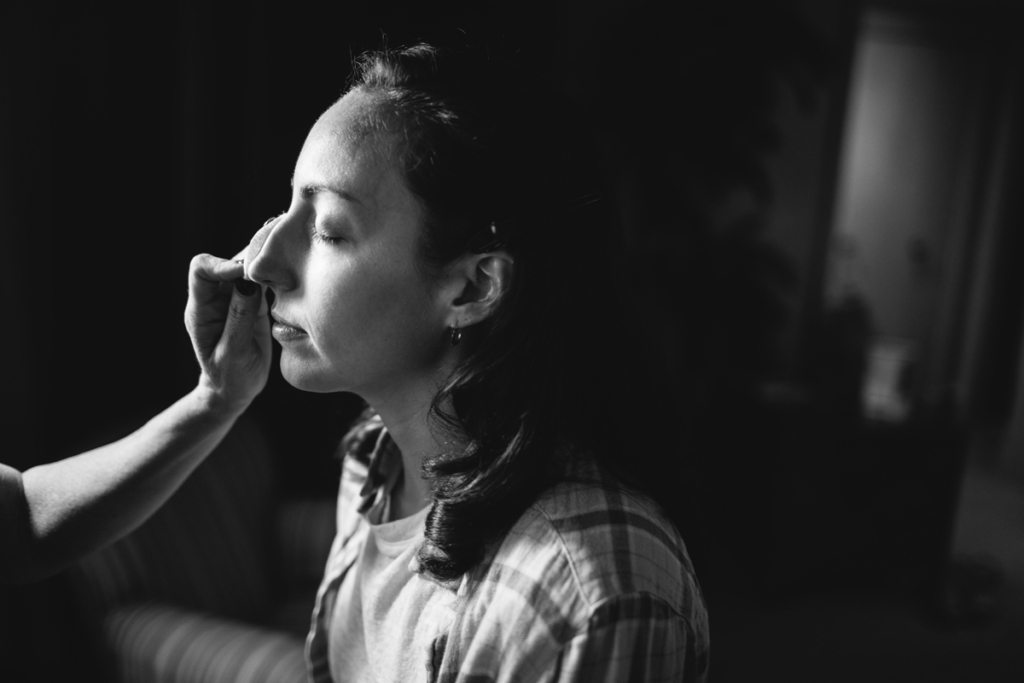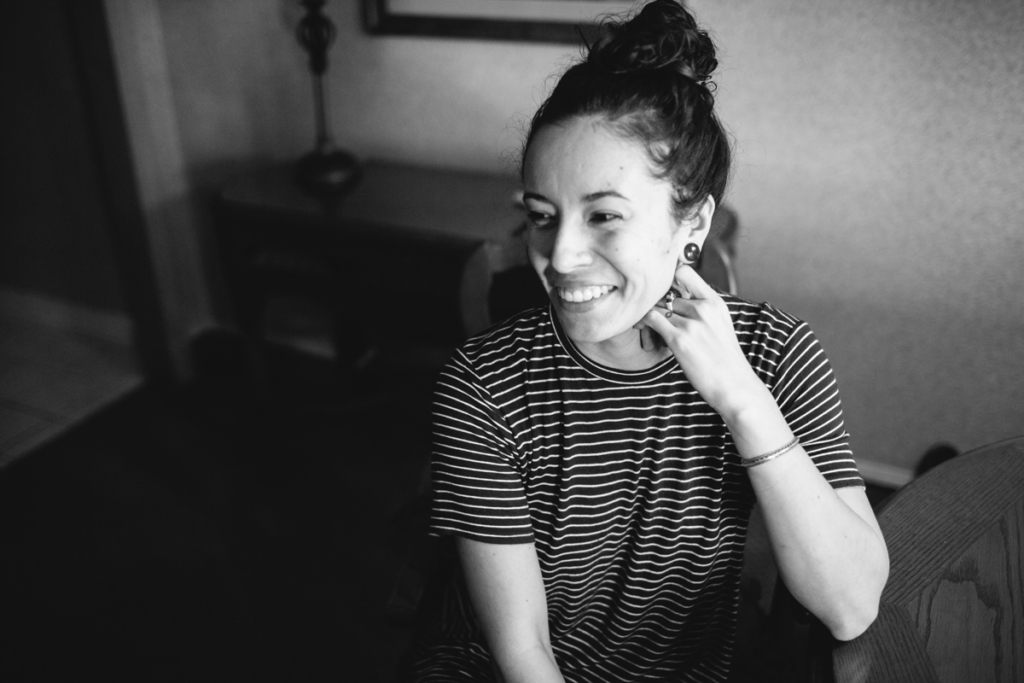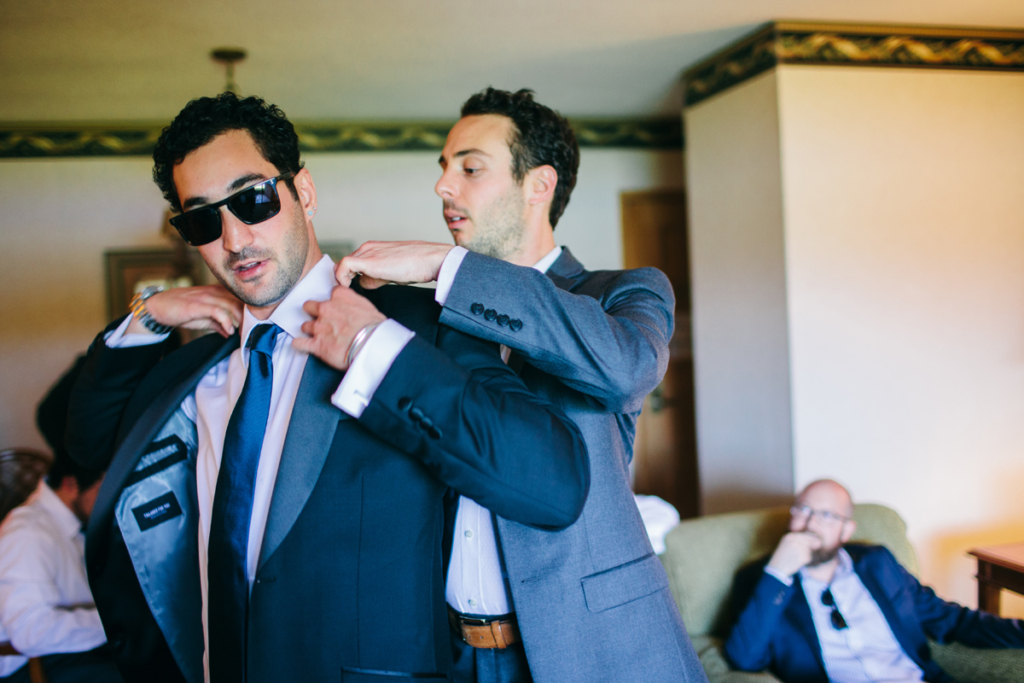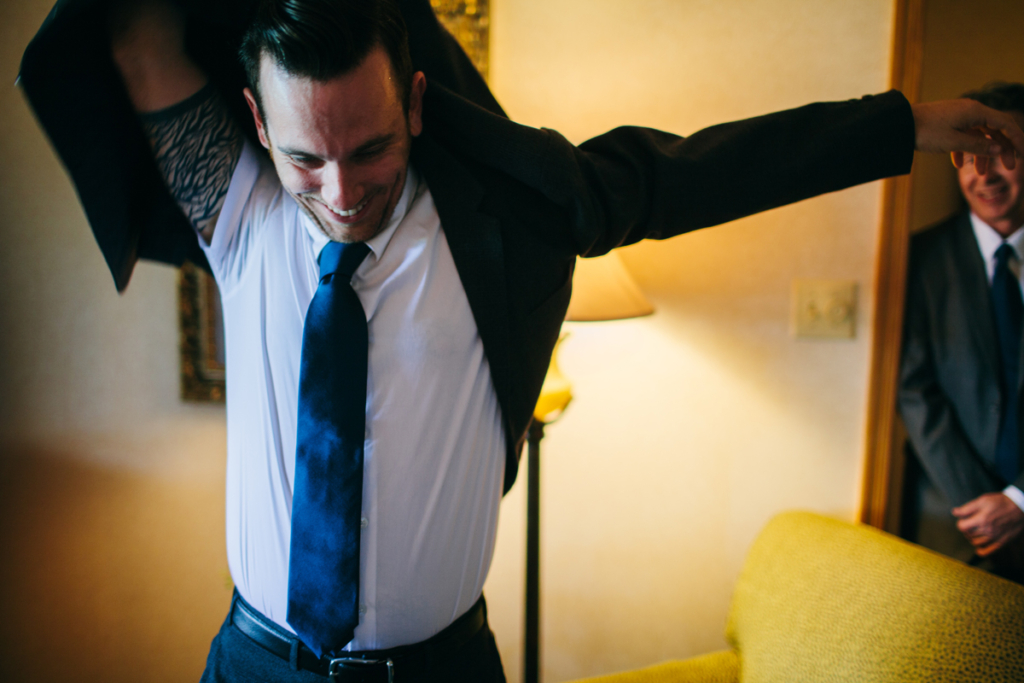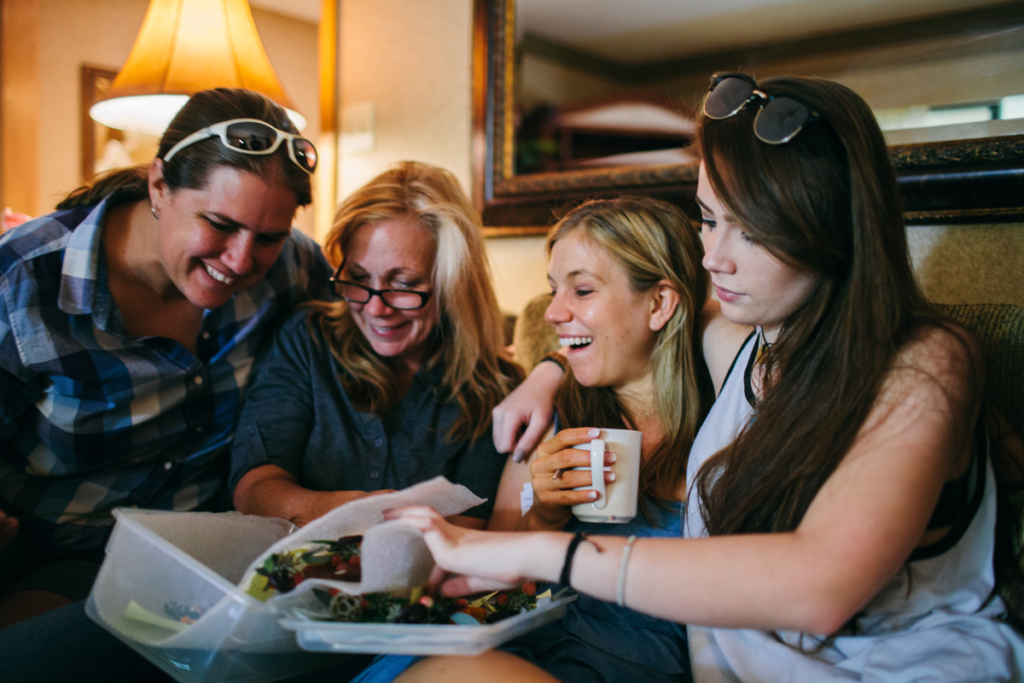 I've never gotten my makeup done (Glamour shots at 6 doesn't count), and when the lady asked me if I wanted to go natural, I at least knew one thing, "No way."
Kat, Lauren, Emma, Hanah, Hadli and Little Lauren were all a part of the wedding party.  They had dresses from Free People with really low backs and a mixed color scheme.  I think the colors all came together really nice.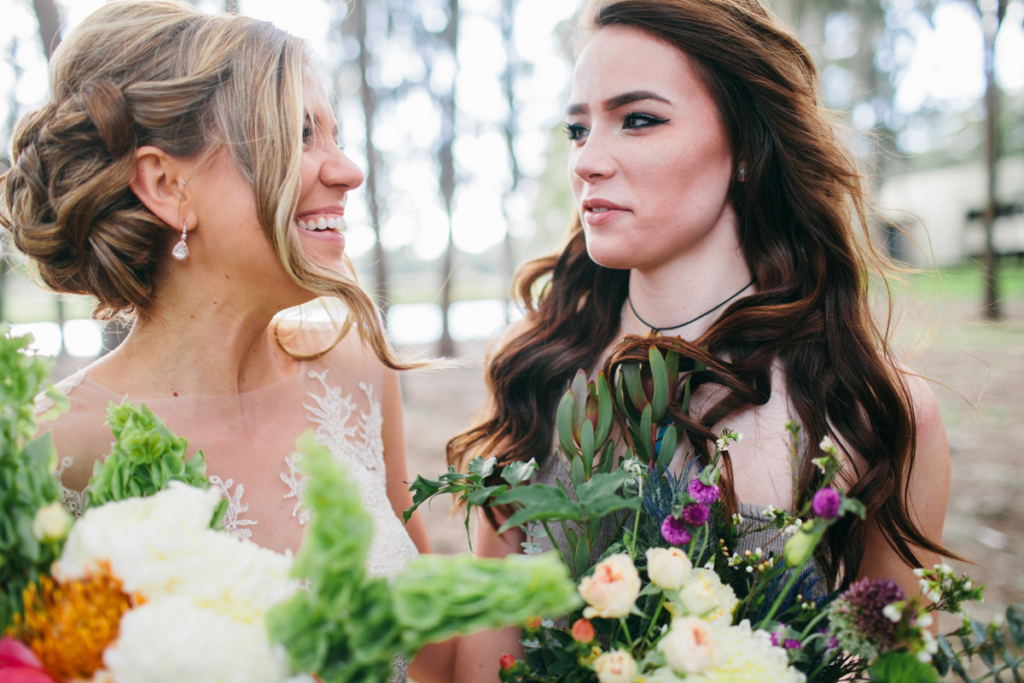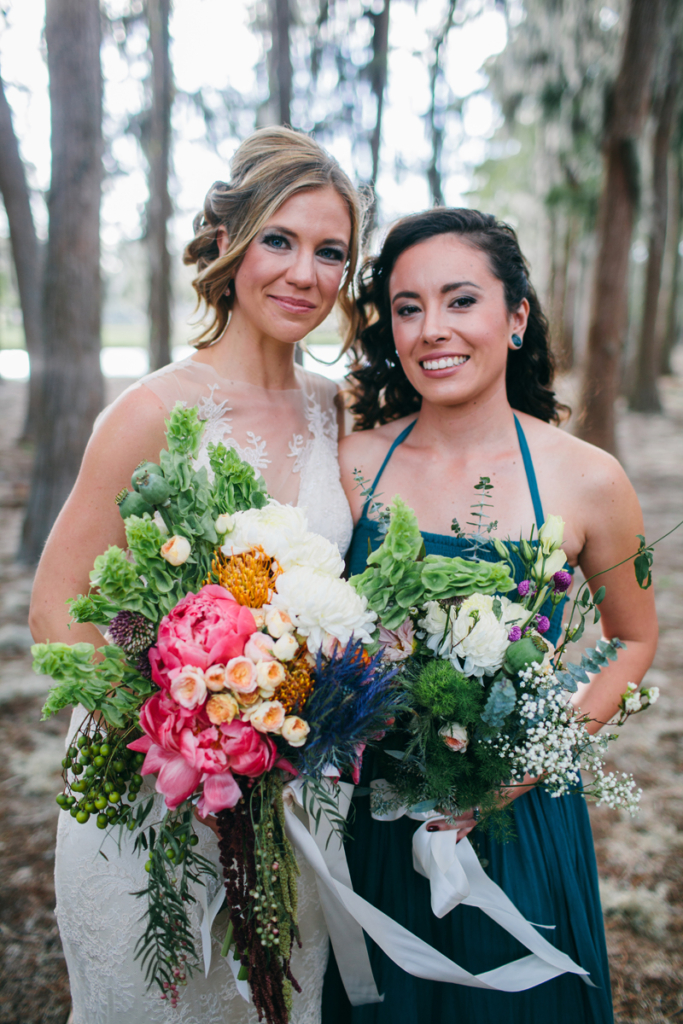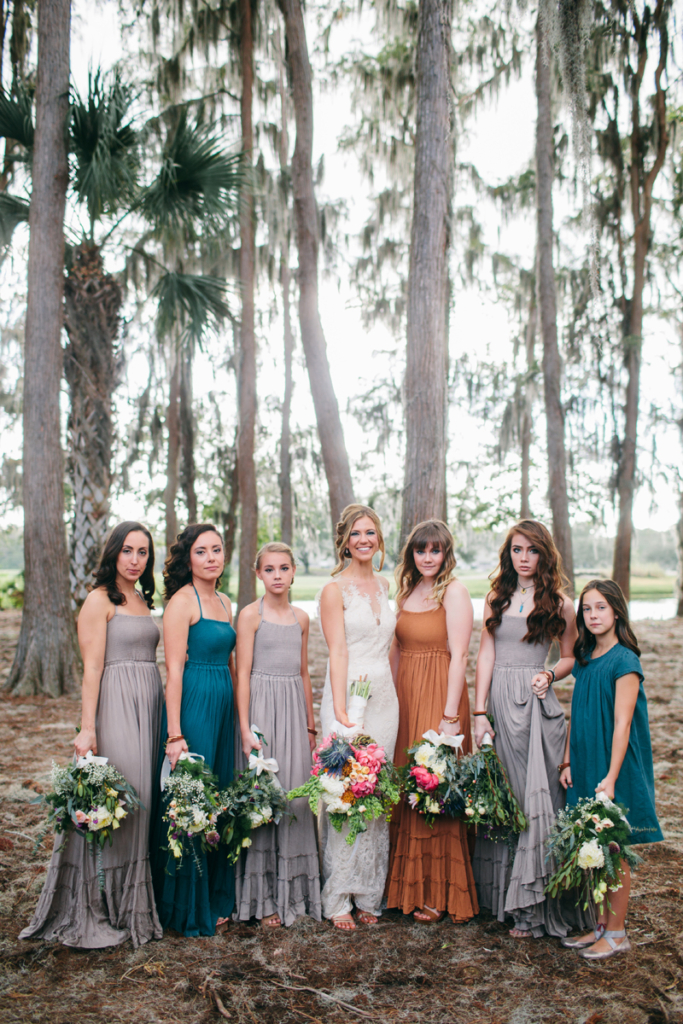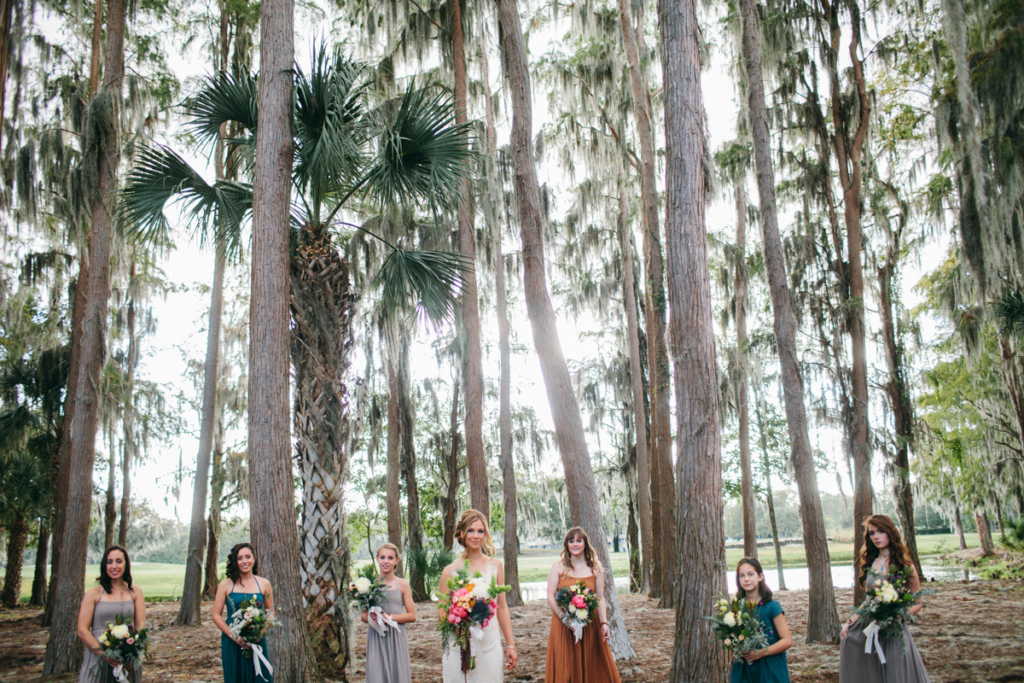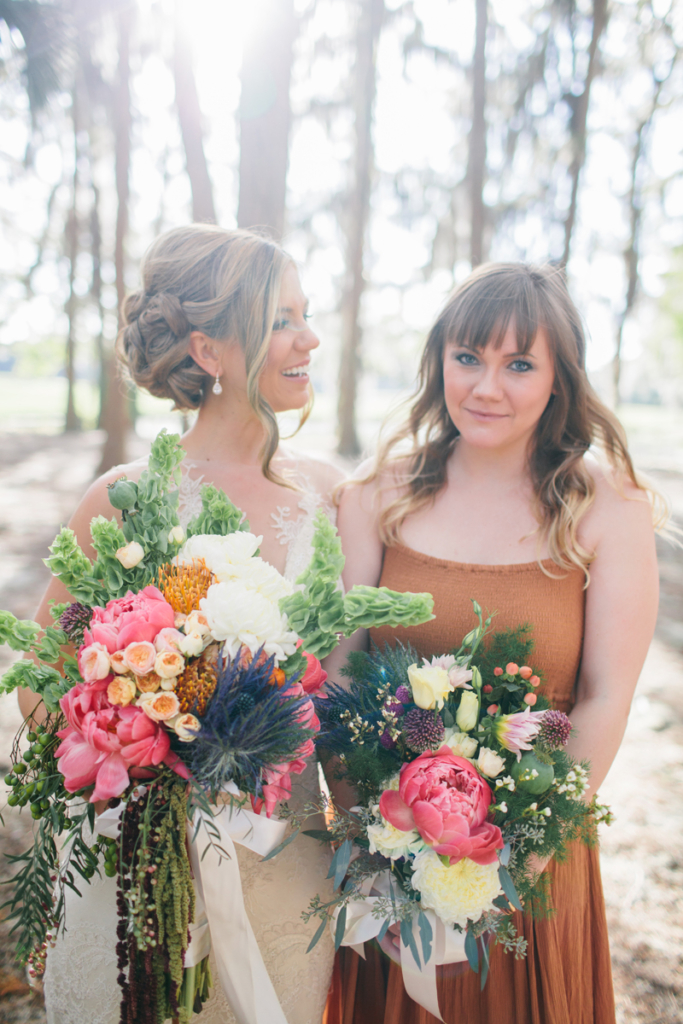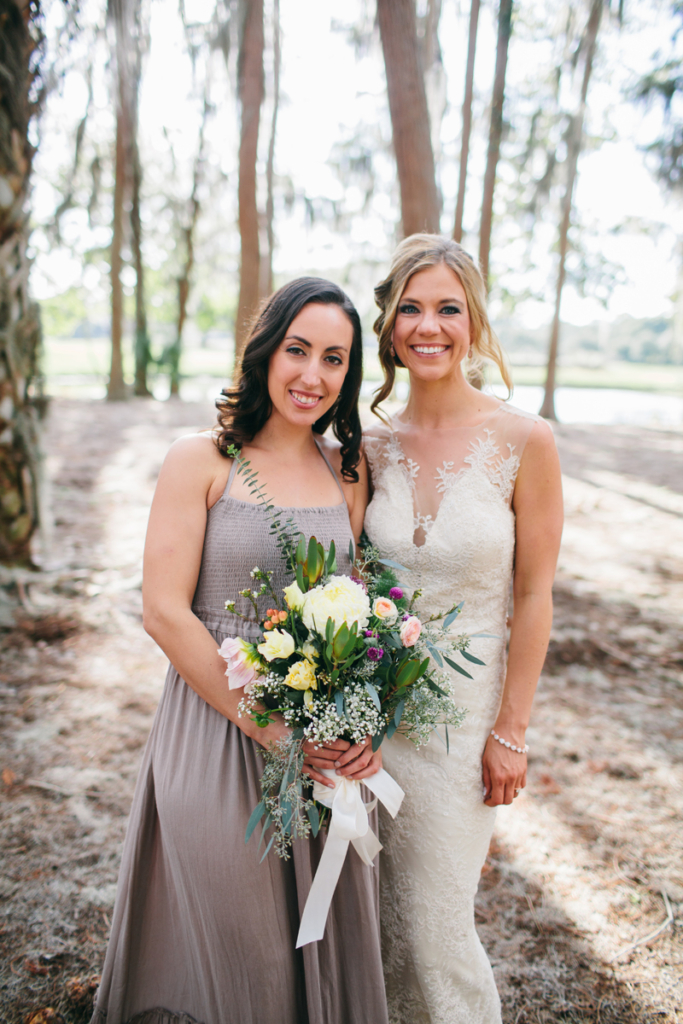 For Andrew and I planning a wedding, it was important to make it our own.   He really wanted fiddle head boutonnieres.  It took a long time to find fiddleheads in bulk at a reasonable price, but we did.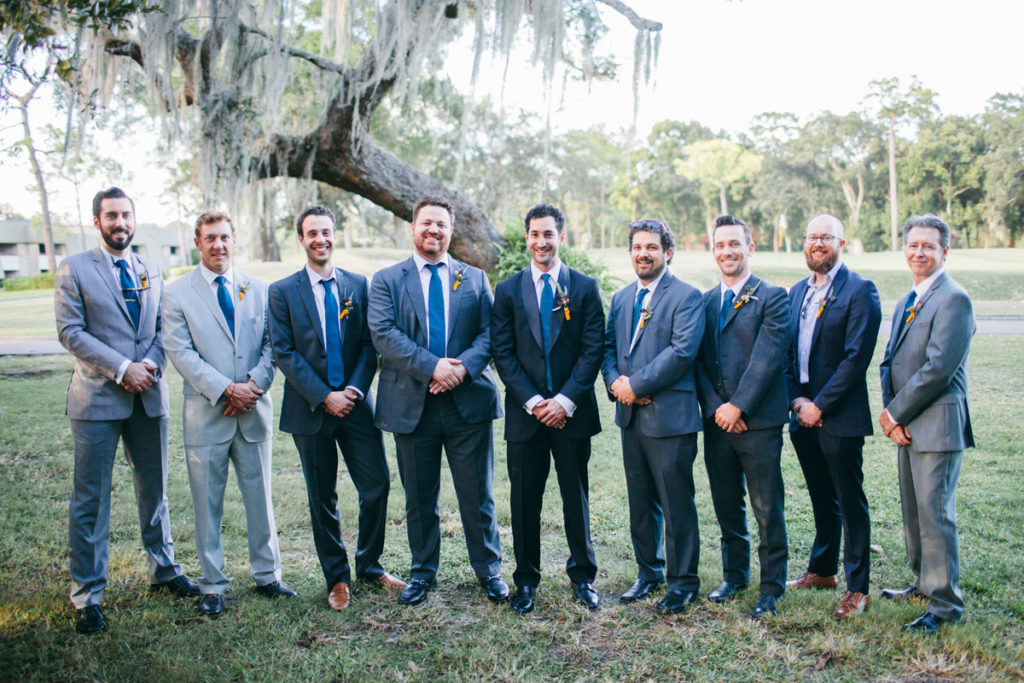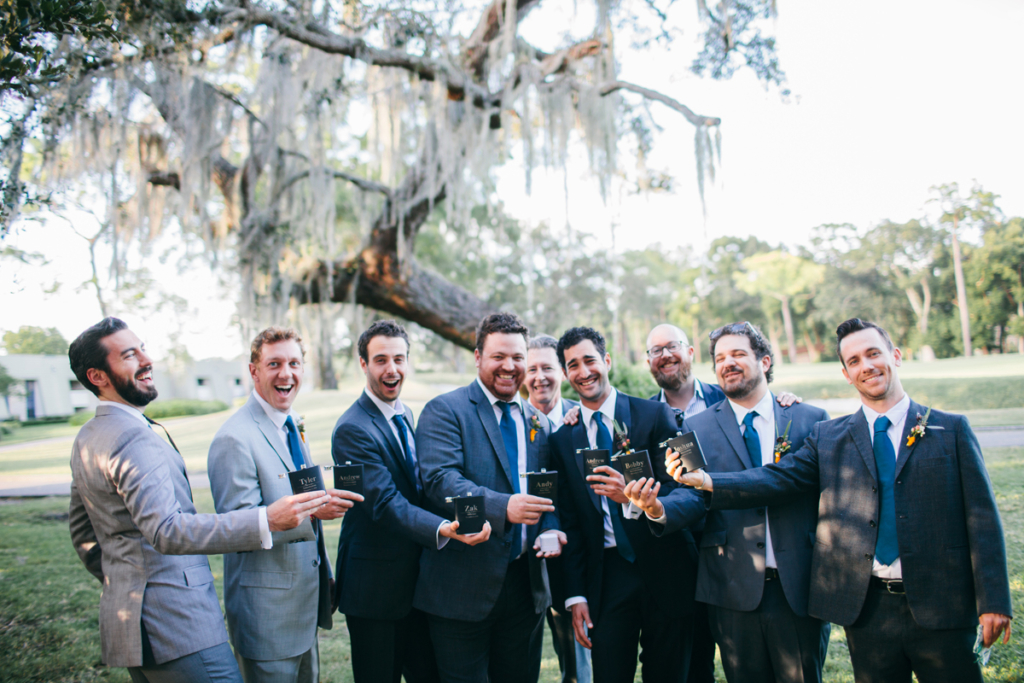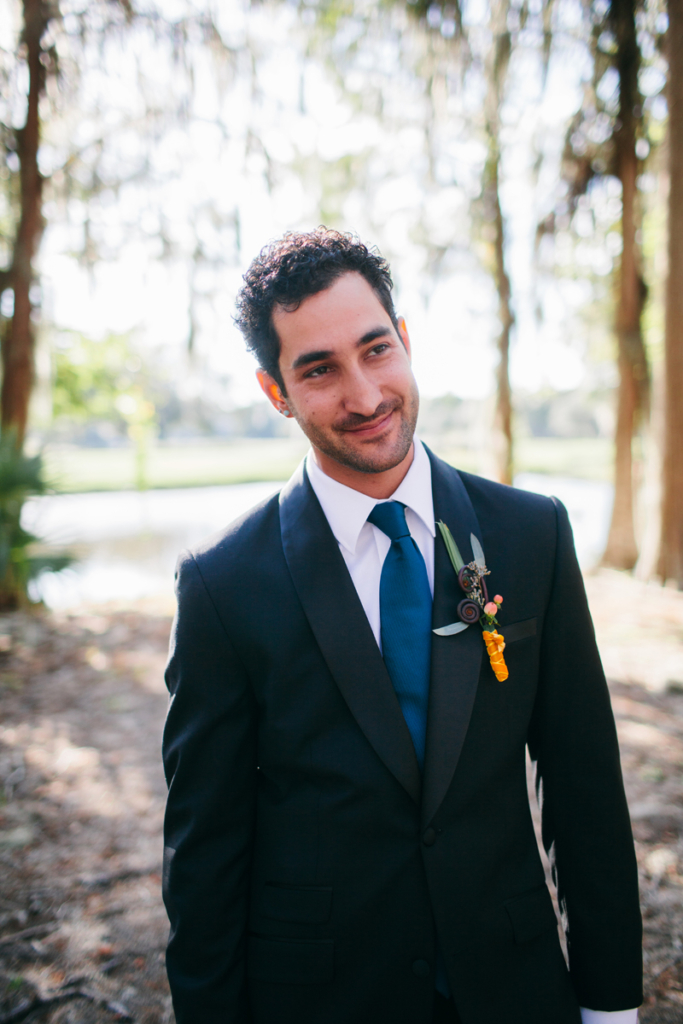 All the flowers were wholesale from Fabulous Florals.  Clearly, their stock and quality are bar none.  The bouquets, bouts, corsages and centerpieces were all DIY.  We had all these amazing ladies working on the flowers from late Friday night and into the morning, certainly discovering a penchant and gift for flower arrangement.  Katherine did Emmalou's bouquet and Susan did mine.  The first time I saw everything, my mouth just dropped.  "Wow! Wow! Wow!"  I was so excited. What an incredible job.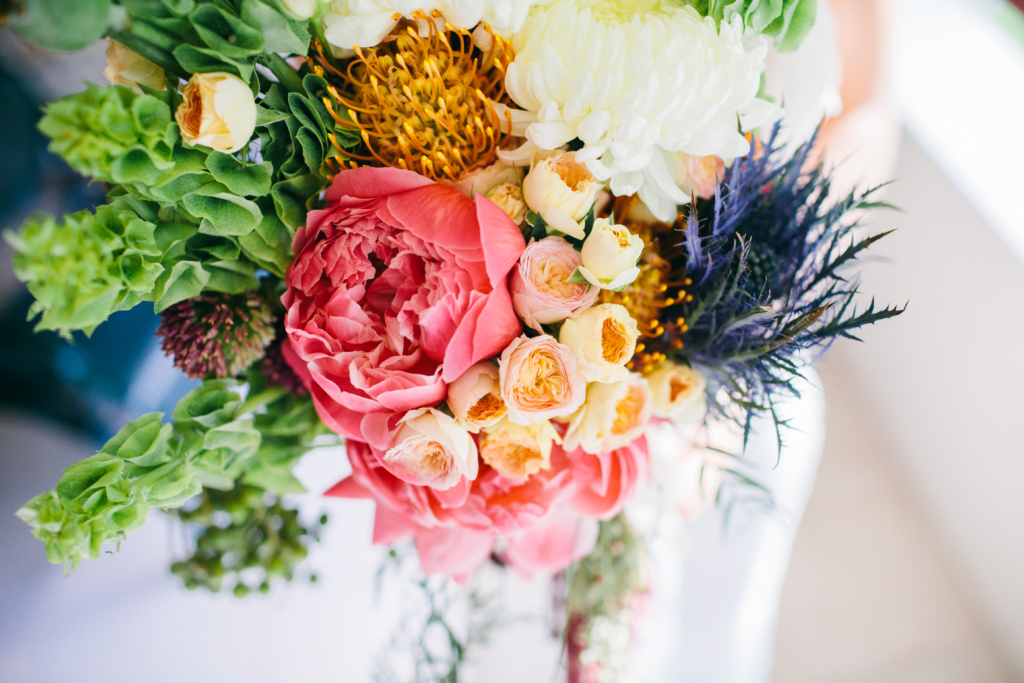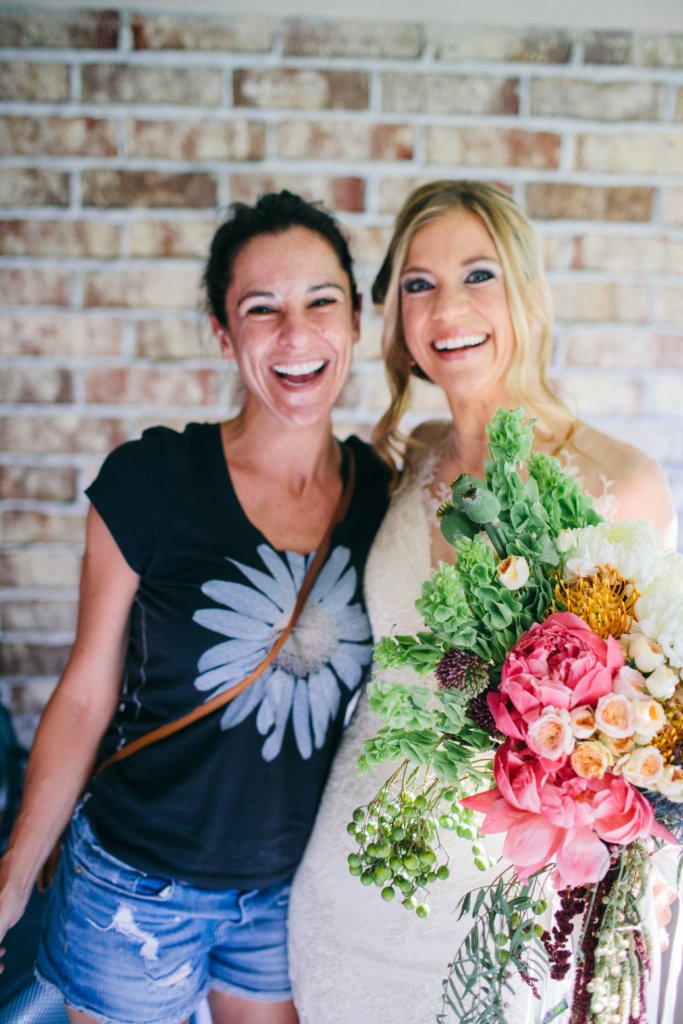 I was getting my hair done, my mom massaged my hands with lotion.  That was really nice.  Lauren, Andrew's sister, helped me buckle my shoes.  
Both of my mom's looked amazing.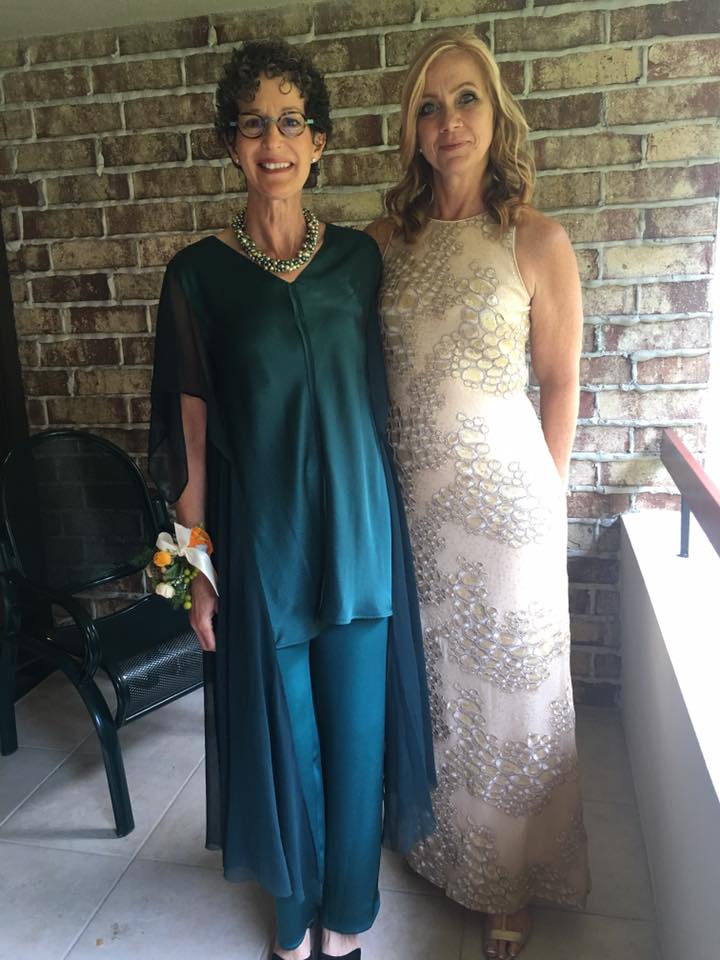 I went downstairs with my mom to get ready for Andrew's and my first look.  It was so special to share that day with her.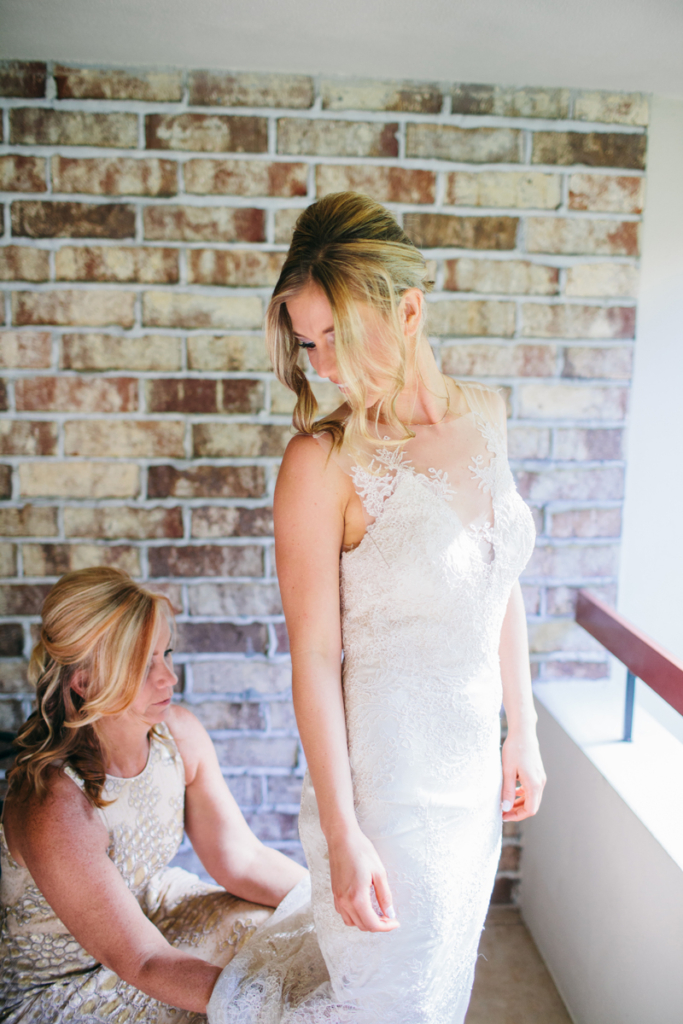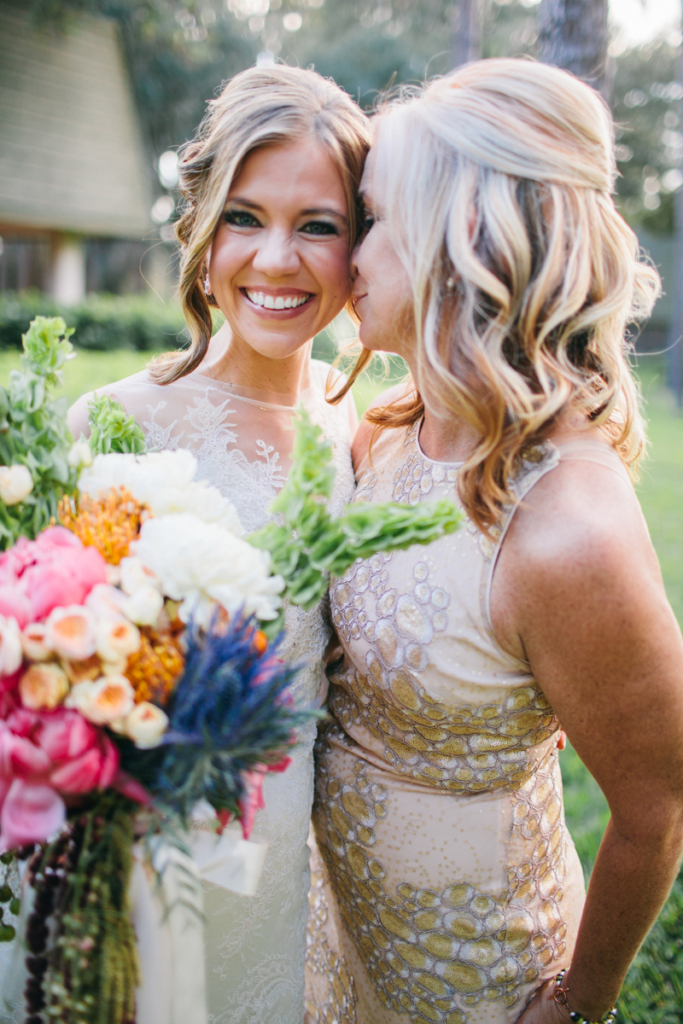 Andrew was standing by himself in the middle of this wooded area.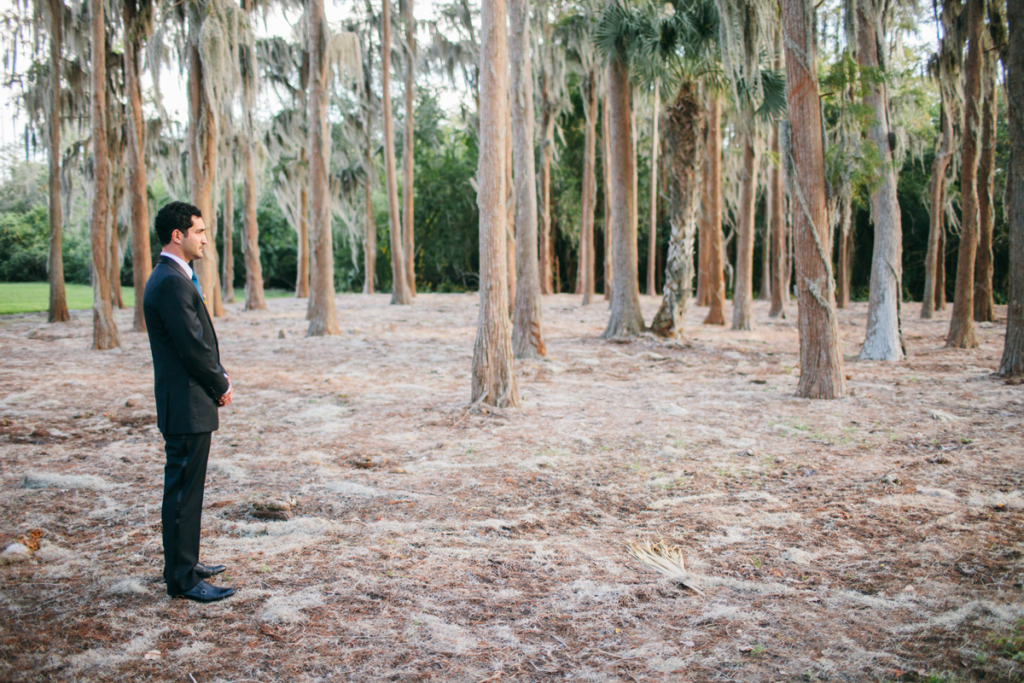 I came up behind him, put my hands over his eyes.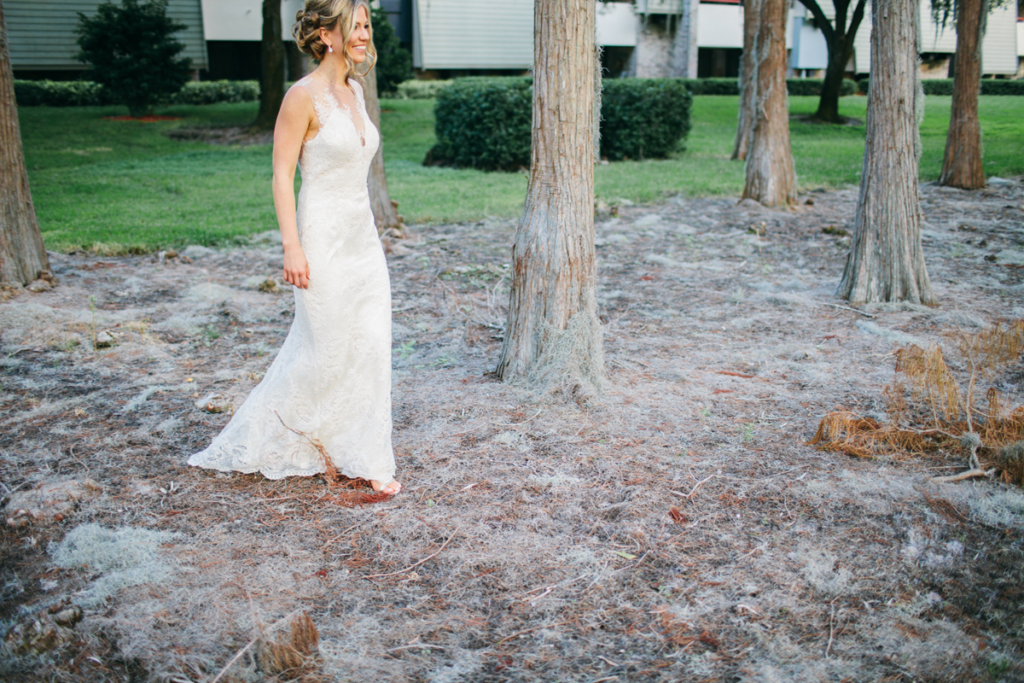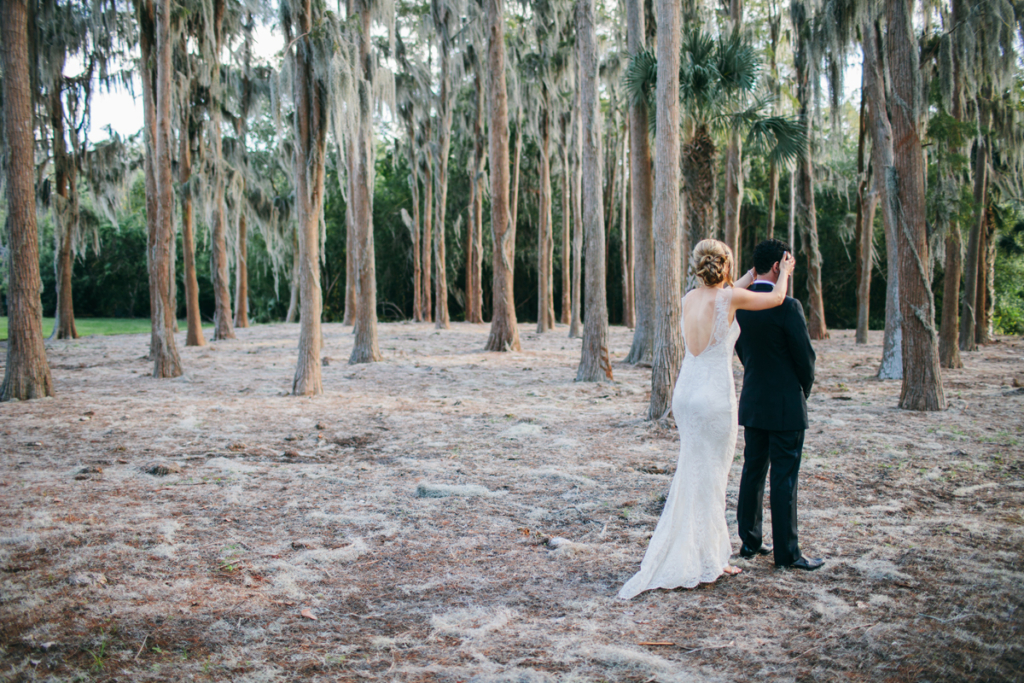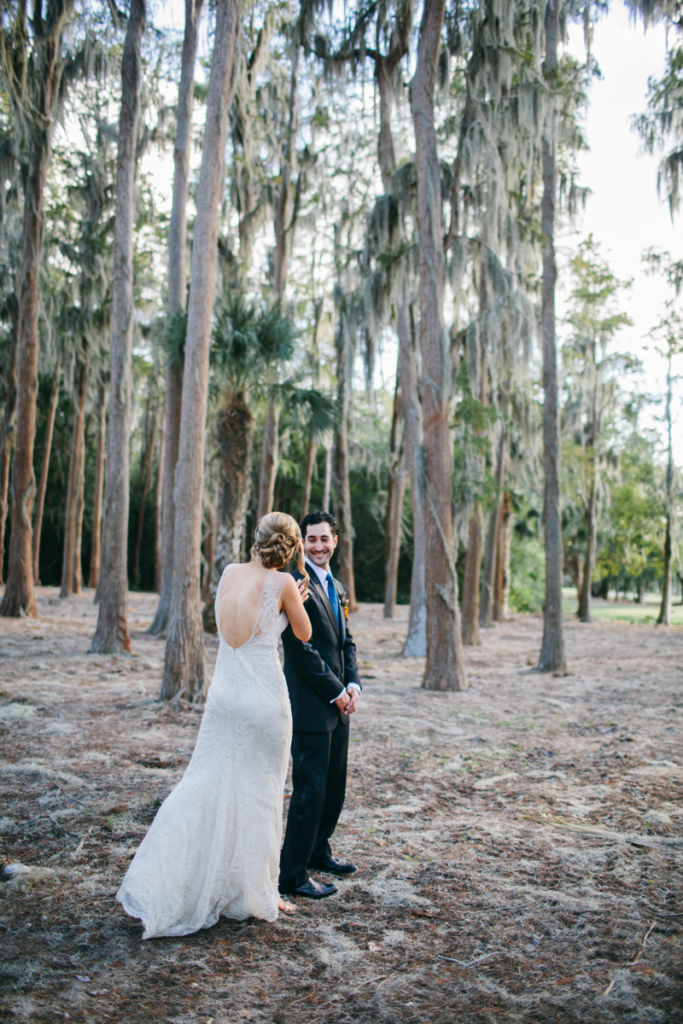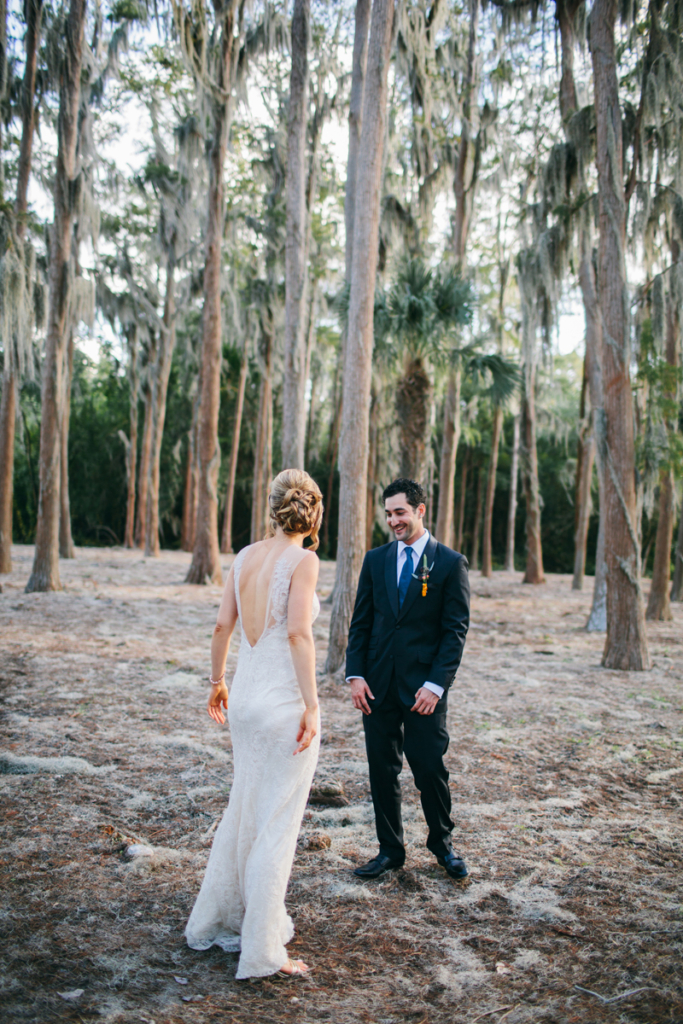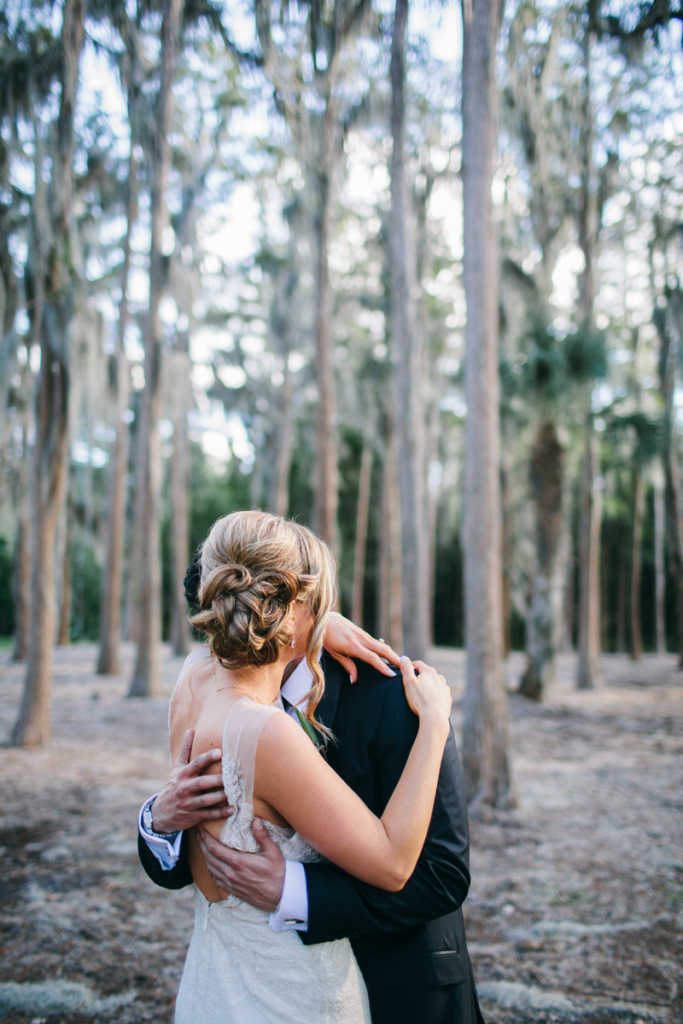 When he turned around, he was so happy and amazing.  He cried so many happy tears.  It was such a beautiful moment.  He told me to wear that dress every day, how beautiful I looked.  What a sweet man.  He looked so good in his tux.  I knew he'd been all anxious.  As soon as we saw each other, all the anxiety through the day just dissipated.  So… a first look was definitely worth it.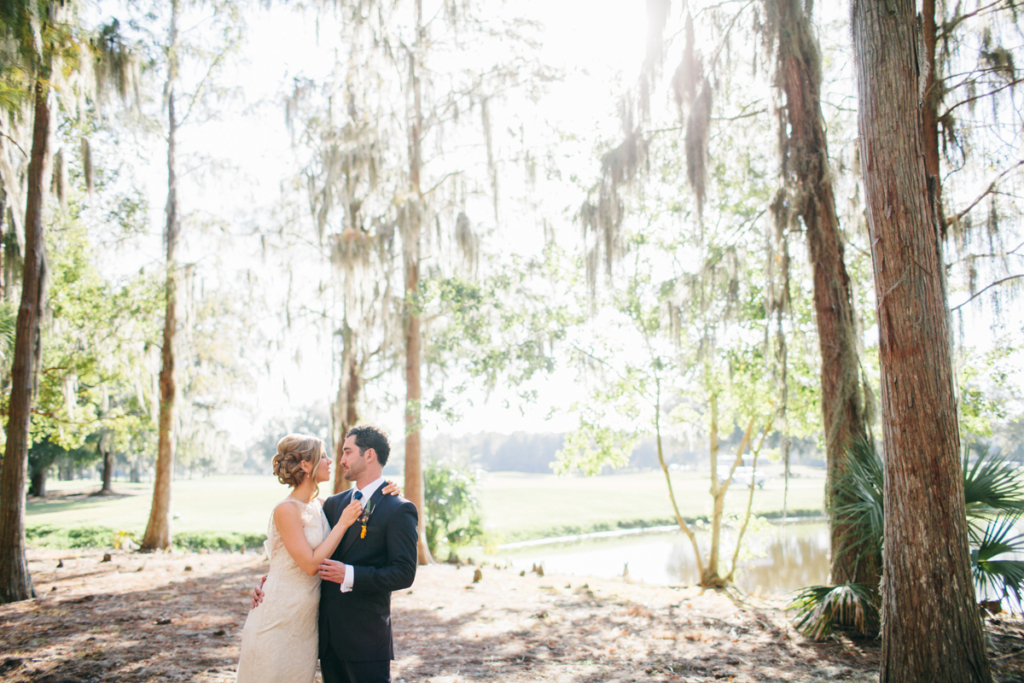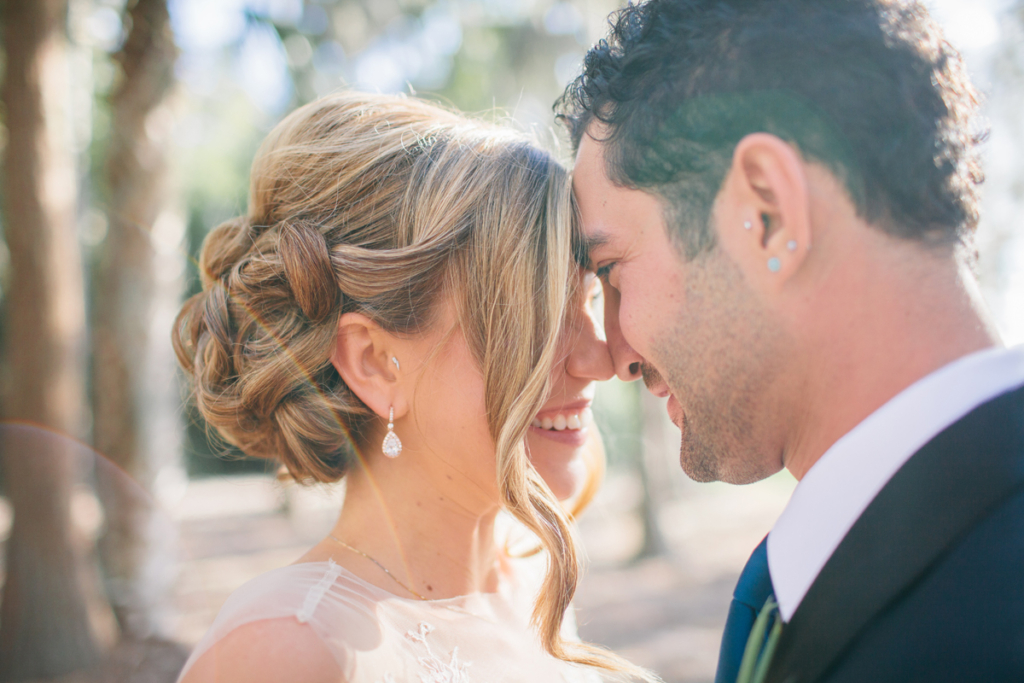 After really special moments, we took some pictures.  I saw friends and family spying on us from the room where we were getting ready.  
After we finished the photos, Andrew took off to head to the ceremony space. We took photos with the bridal party.
The ceremony was at the Salamander Spa.  It was the first time the space had ever been used for a wedding.  We were originally planning to have the wedding at the Tarpon Bayou.  I received a call just over a month before the wedding that a snow crab festival had booked the same time and day at that location.  With the parking issues, noise, people and rowdiness, we did not have any desire to share the space.  Plus, I'm allergic.
We were thinking about different options.  A lot of pretty park spaces were all booked up.  We found some options quickly, but I called around just because.  I called Innisbrook to see what their costs were and found out they'd give us that space for free if they could take pictures of us there.  
So it was a true little blessing.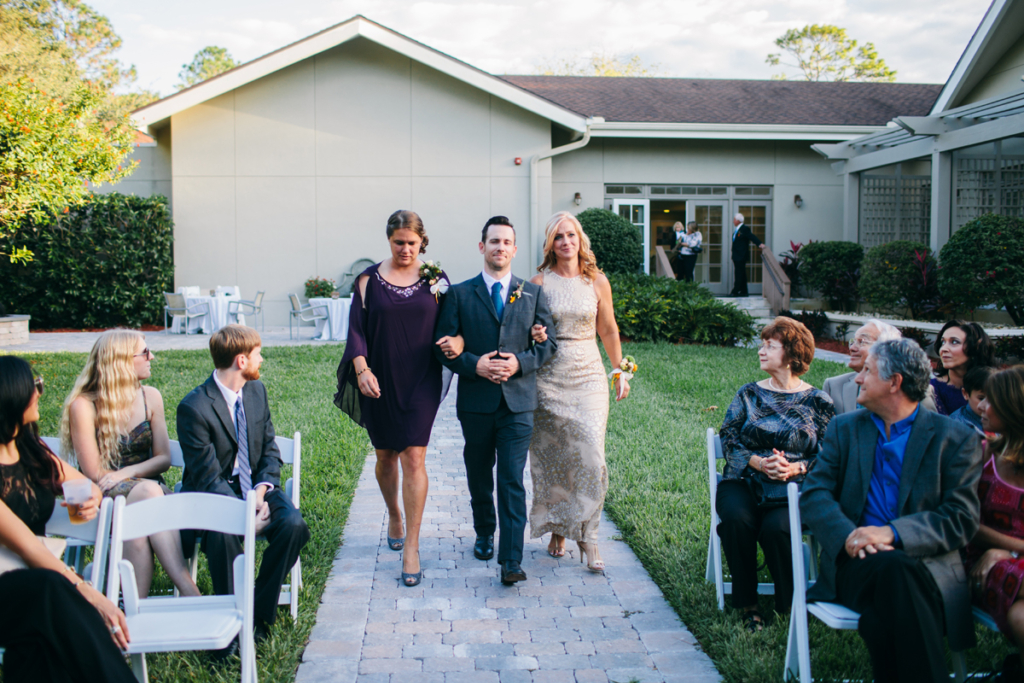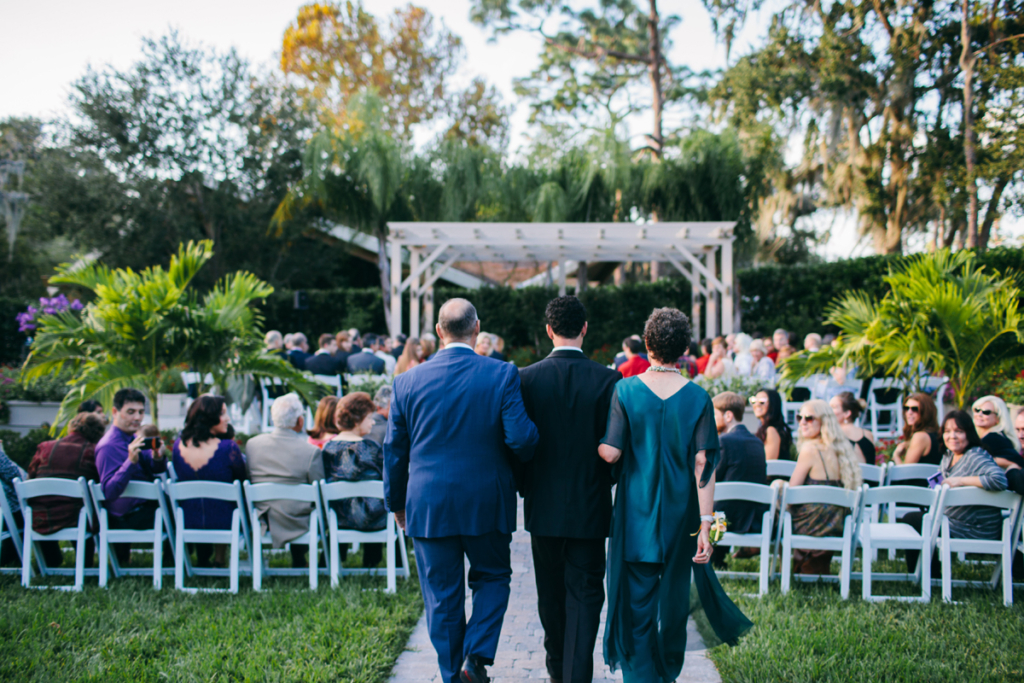 We waited in the ladies' side of the spa while the music played.  The music consisted of Radio Ballet by Eluvium for the bridal party walking down and 8 mm by Yann Tiersen for my Opa and I.  When we got to the front, Opa connected our hands and I kissed Andrew, laughing.  …whoops.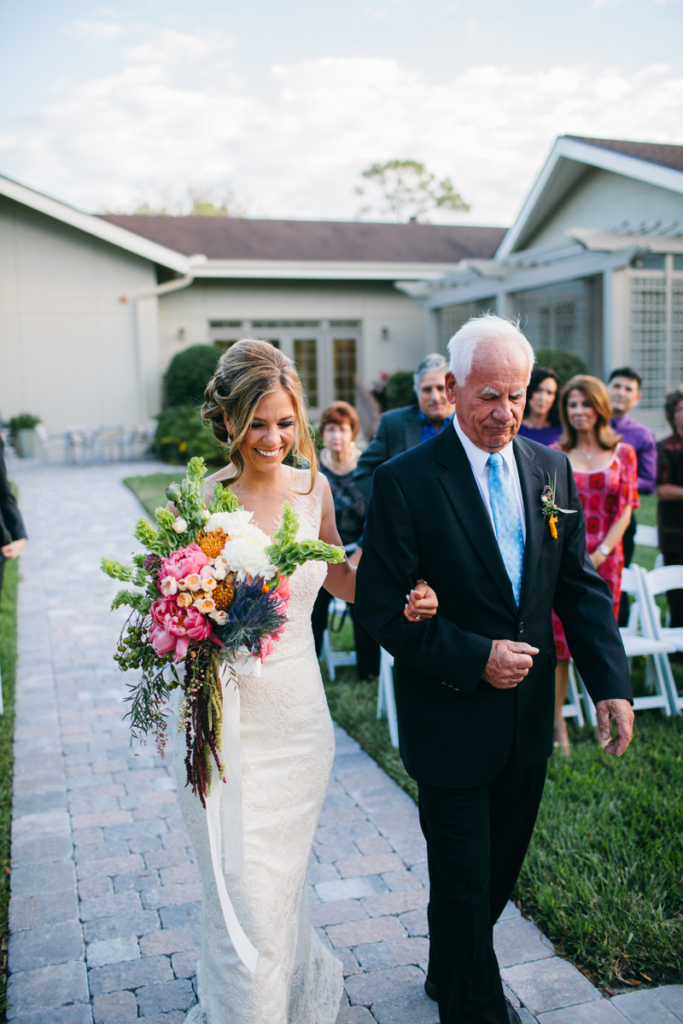 Zak was our officiant.  We didn't want a religious wedding. Zak's been a dear friend of Andrew's for a long time and a newer great friend to me.  His words were really fitting and eloquent.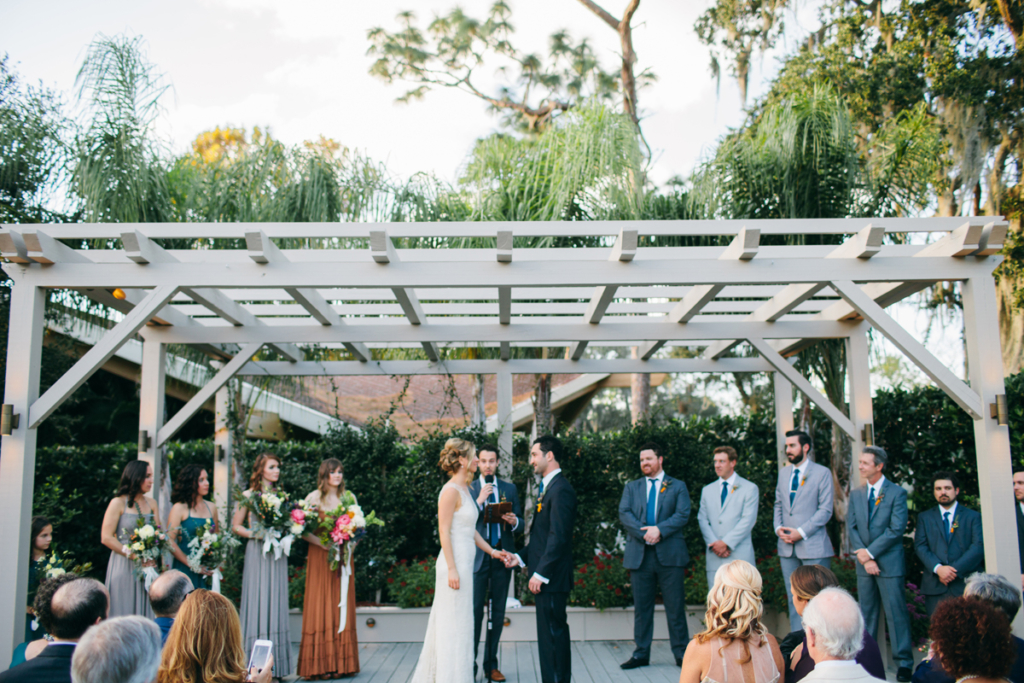 Andrew had his vows all printed out.  They were so sincere and addressed things that were just really relevant to us as a couple.  I'd written a rough version of my vows on Innisbrook hotel pads that morning.  I'd been struggling with getting beyond the clichés of things.  I remembered that intonation is key. :)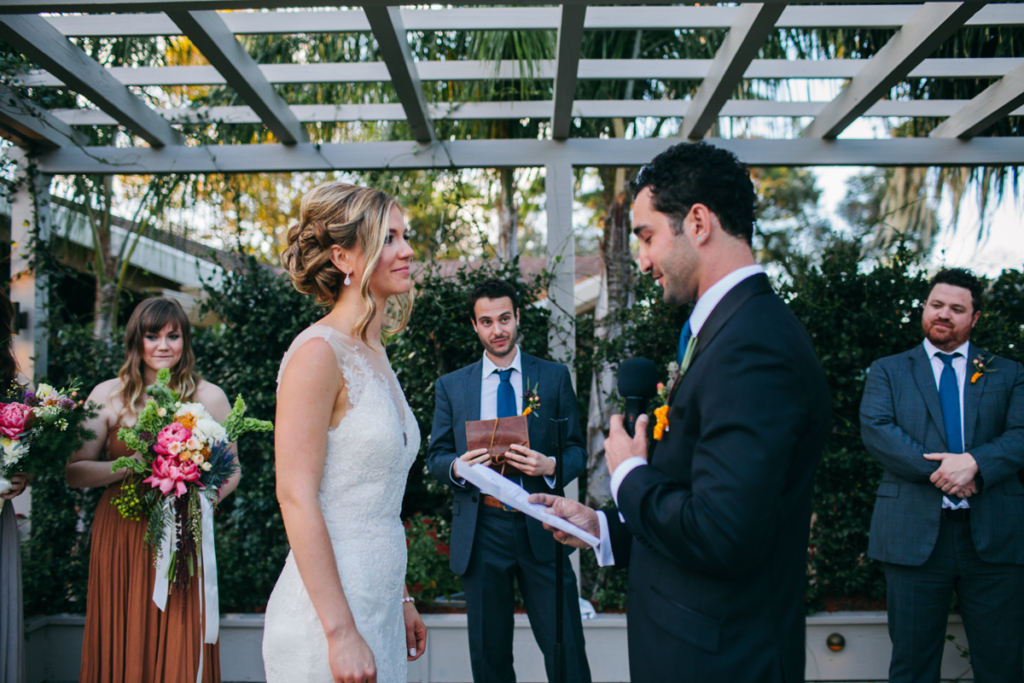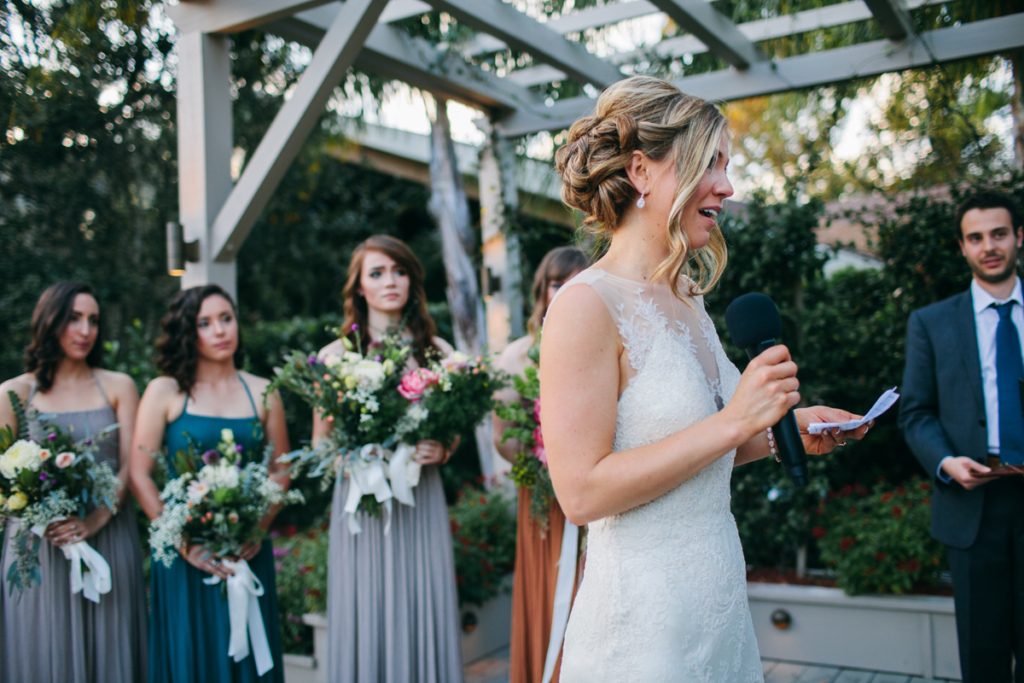 We exchanged, rings, smashed glass, kissed and were pronounced man and wife.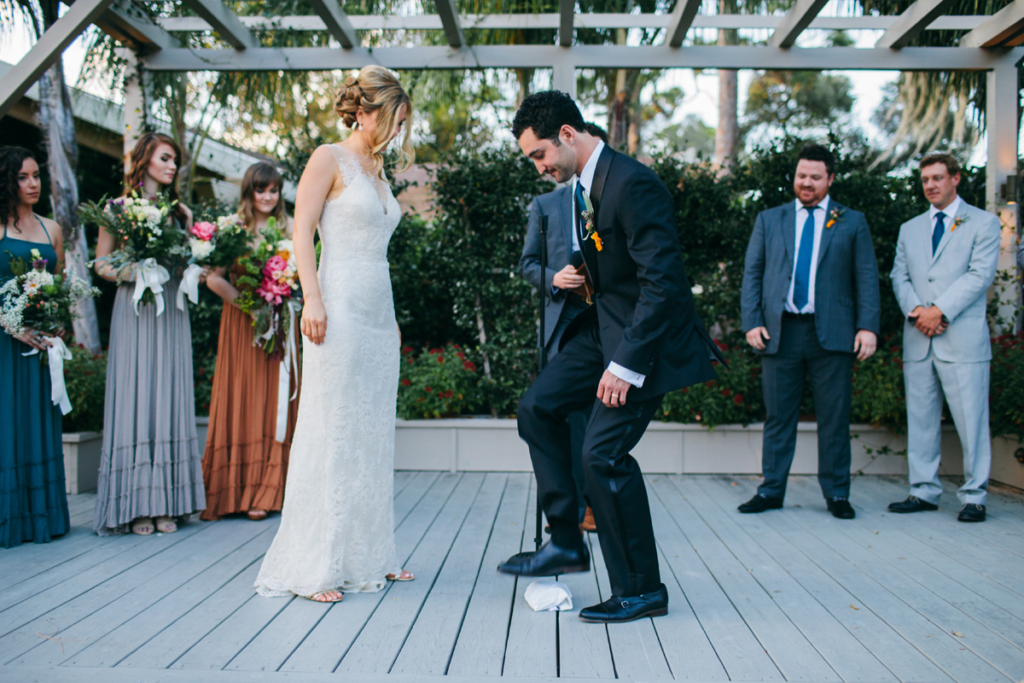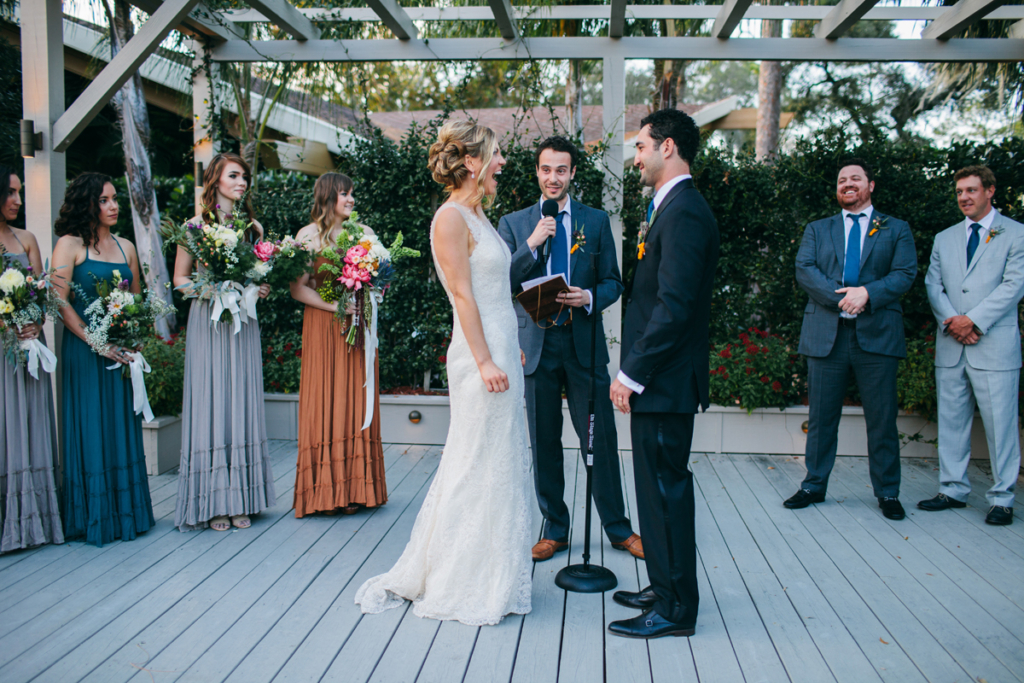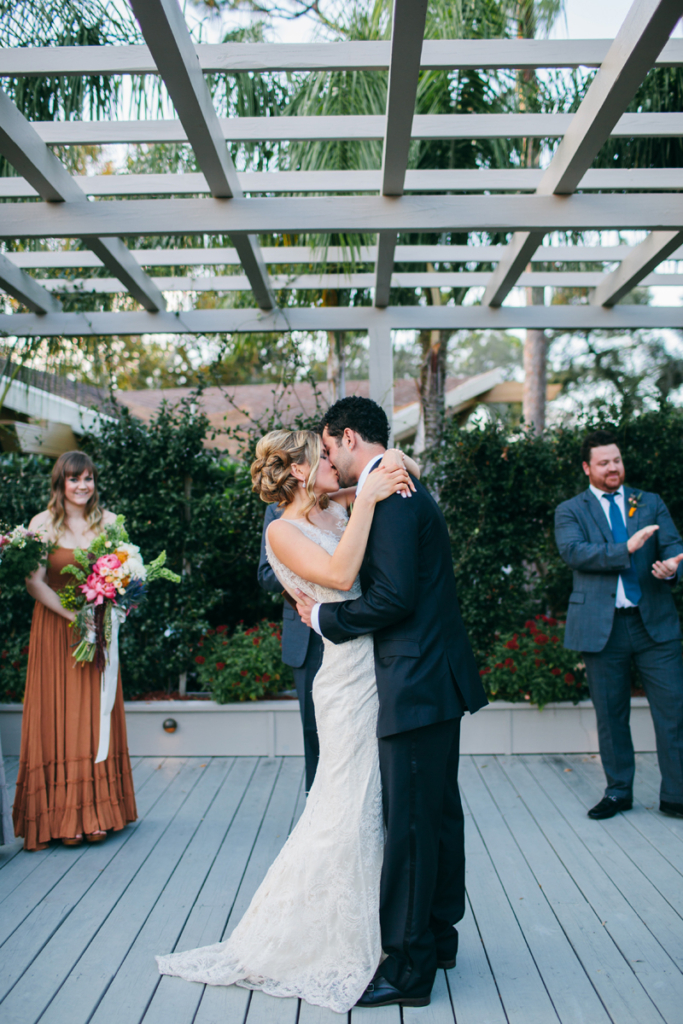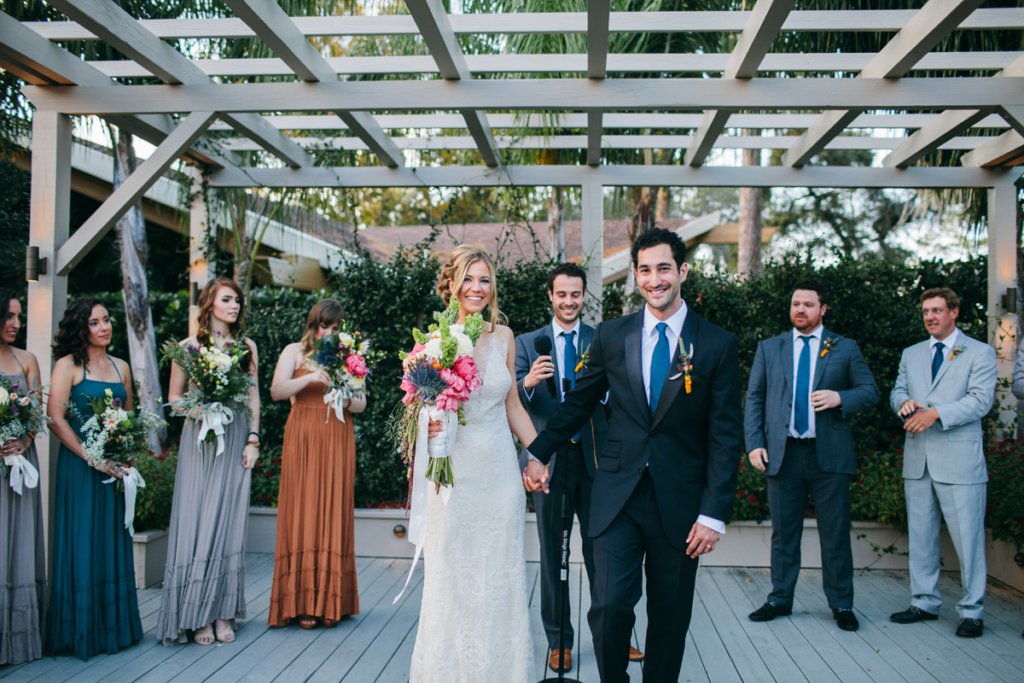 We received congrats, took family pictures and headed to my mom's place.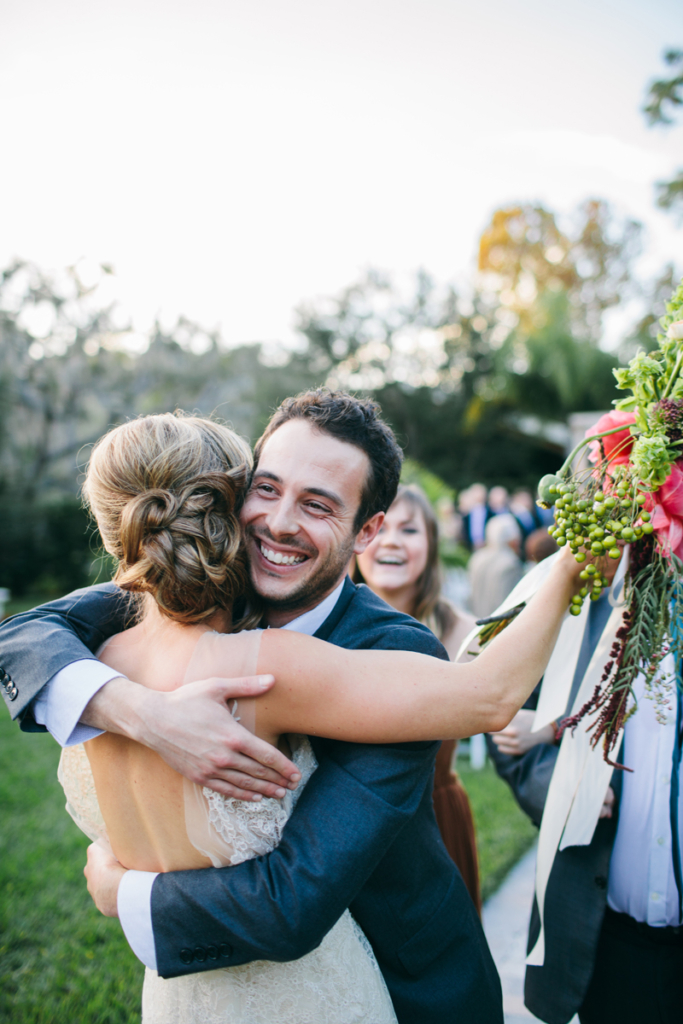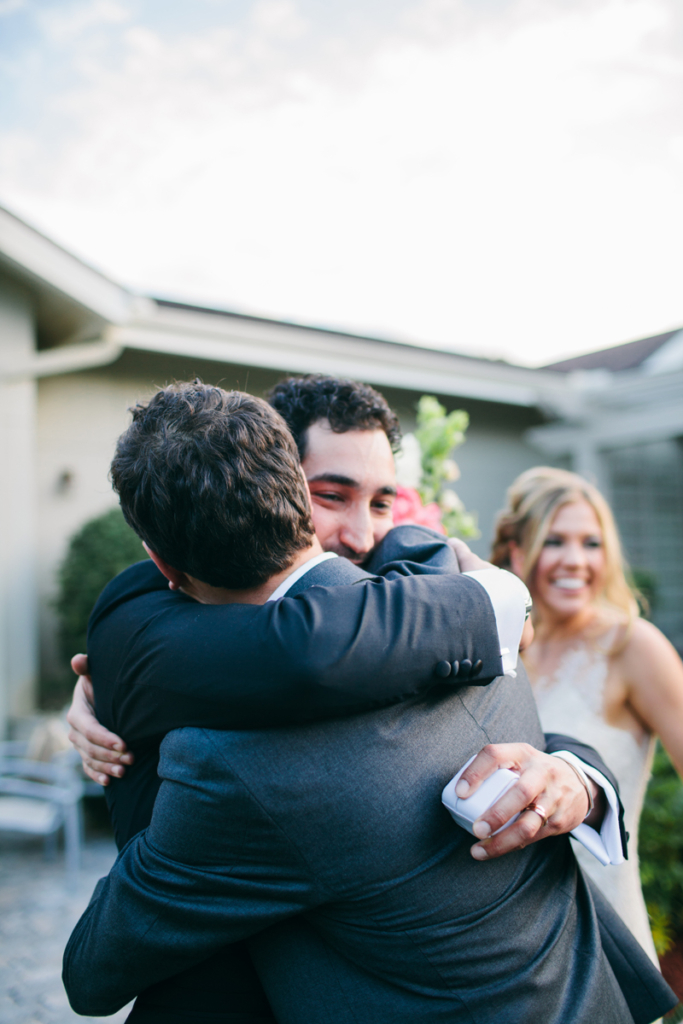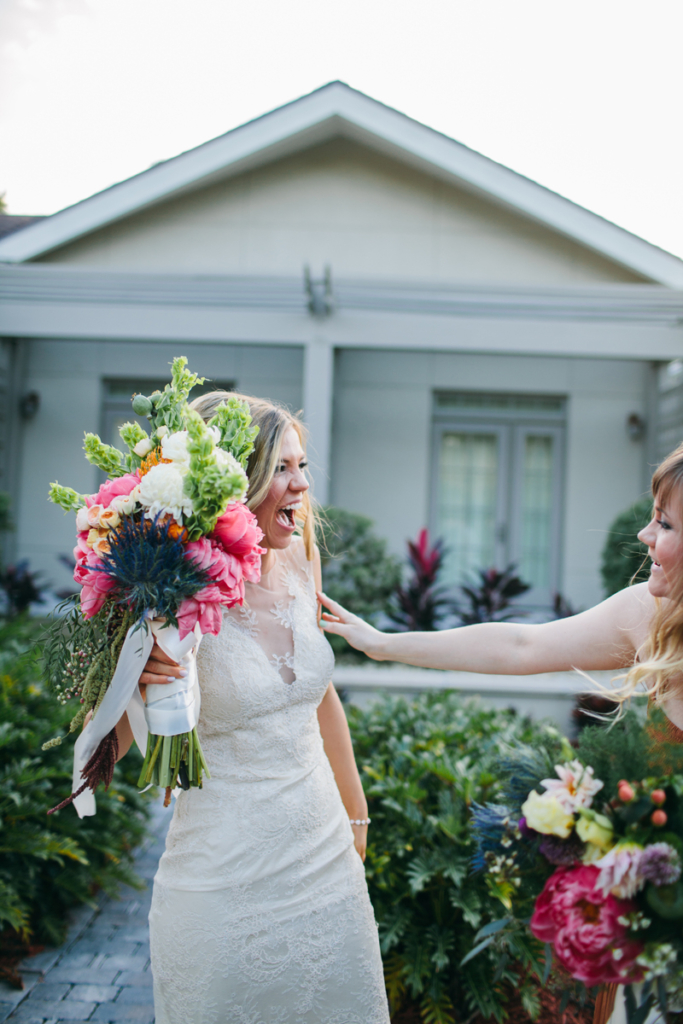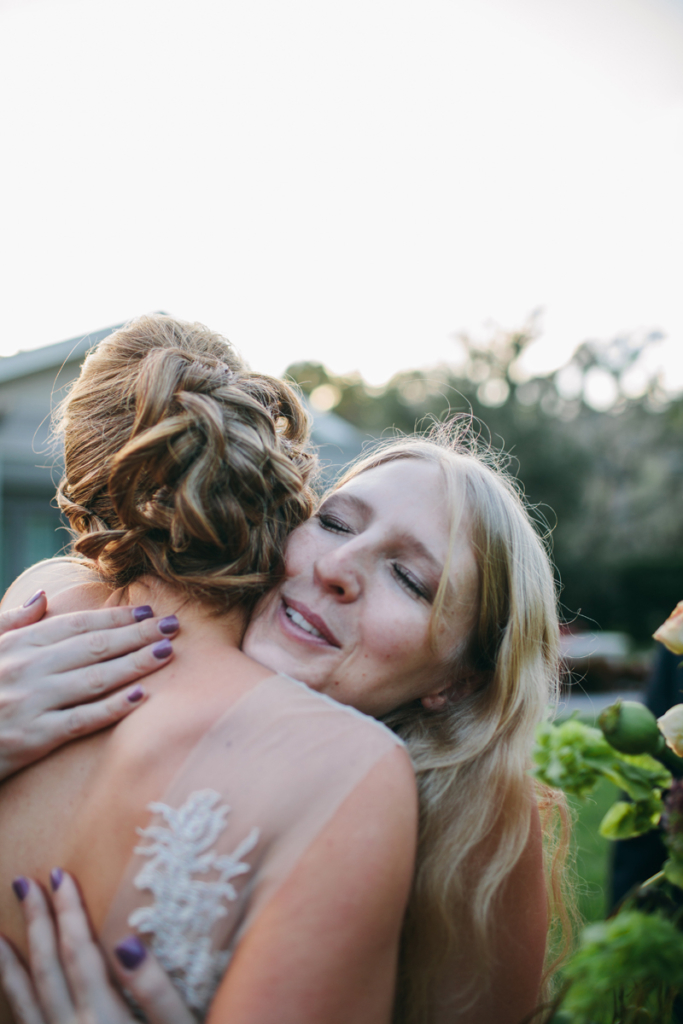 To be continued…