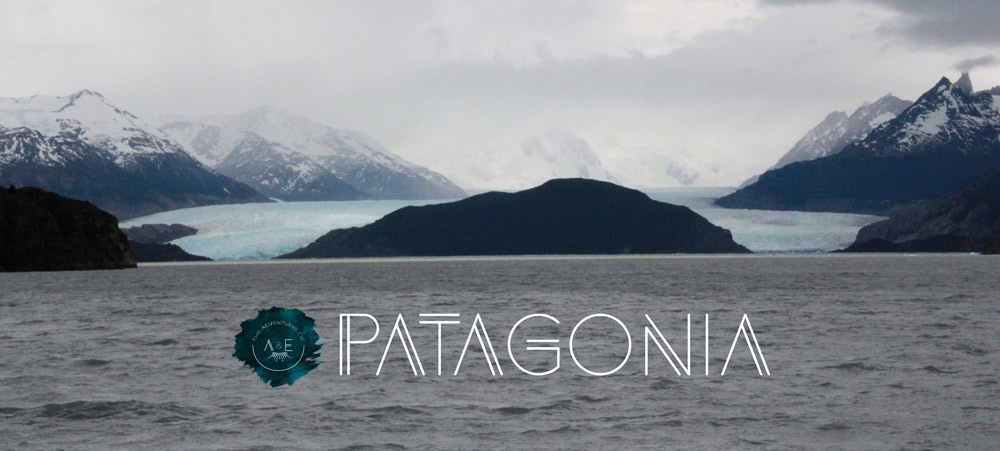 El Calafate, Puerto Natales and Torres del Paine
I planned the trip with the idea we'd put indulgence and relaxation on the front end, and exercise and nature on the back end. We went to Patagonia ready to breathe fresh air and relax in a more low key way. While we did plenty of relaxing, this part of the trip was filled with serendipity, spontaneity and some "Oh shit handle"-ing.

El Calafate
We stayed in El Calafate for one night at Esplendor El Calafate, where Anthony Bourdain apparently stayed just a few months prior. It was a super cool hotel. Nice pool. Definitely the best pick we could've made.
The plan was to stay in El Calafate a night, go to Chile for hiking and come back to stay back at the hotel for 4 nights (recovery).
We rented a car and left really early the next morning, leaving our luggage in the lobby and taking our backpacking gear.
All That Happened In One Day
I Google mapped the directions. It essentially told us to "take 40 all the way to Chile where you take 9." Easy enough. So, we are driving along. We don't have data, but I can see where we are on Google Maps. I realize after 10 minutes of driving on Interstate 5, we somehow missed our turn for 40. We turn around. We turn onto this dirt road with these black looking scarecrows on the sides of fences. (Pretty freaky.) I thought the dirt road would become pavement anytime. NOPE.
Imagine a great vast nothing of hills and rocky roads driving a 2WD vehicle with no help for miles and miles around. As we get deeper and deeper into the middle of nowhere on this uneven gravel road, going 80 kph, I'm freaking out. We aren't talking much. I keep thinking about bandits waiting just over the hill. Getting a flat and being robbed. Getting a flat and being stuck. Messing up our car and having to deal with insurance and deductibles. Every huge rock that hits the bottom of our car, I shudder. I'm hanging off the oh shit handle.
As I'm following what percentage we have left before 40 merges with another road (referring to Google Maps saying – 50% there, 60% there, etc), I finally ease up at only 25% left. I look around, and I realize how beautiful it is. Of course, there are sheep galore. But, there are also the alpaca cousins (forget their names ), the ostrich like things crossing the street in front of us and flamingos flying overhead giving a tropical color contrast against this otherwise cool palette landscape.
In the middle of the weirdest and somehow scary(?) detour, I take a look around and finally realize "This is Patagonia." It took awhile to really look, to relax and breathe the air, but when I opened my eyes enough, it was absolutely amazing and something we would've never seen had we stayed on the paved interstate.
We didn't see any other car on that whole route. And fortunately, we got off there, with no damage to our vehicle. We knew for the return, to take the "long way." But, we were grateful for the experience.
Puerto Natales
We beat the busses, cross the border and go into Puerto Natales. This place is touted as being a great place to stock up on backpacking food. Chile's border is very strict. You cannot bring fruit, meat or anything with honey or seeds across (even if it's a granola bar).
We get to the grocery store looking for the backpacking food all the people on Trip Advisor wrote about, and the selection was crap. We know for our 5-day backpacking trip, we will be hungry. They don't even have minute rice.
We splurged on a few over-priced backpacking meals, and a new Osprey reservoir (mine broke in transit). It was SO expensive.
Puerto Natales is WAY overrated. It is the closest place to the park, but really sucks. Coming from Punta Arenas would be way better.
We headed to Torres del Paine with a feeling we might miss our 3p ferry (needed to set-up camp). Throughout the park are rocky and dirt roads, so it took a lot longer than expected. We left El Calafate at 5:30a for what was supposed to be a 5.5 hour trip. When we got to the park entrance, we had already missed the ferry and we knew that. We went to go check in at the Visitor's Center and that's when things got more interesting.
First, we learned we needed reservations for all the free camping on the trail. I'd known you needed to reserve refugios and paid camping back when I was planning in February (10 months earlier), but nowhere was it clear that you had to reserve FREE campsites. I realized that part of the site wasn't translated into English and none of the countless forums or blogs mentioned it.
The girl told us just to try and get by. She said if the rangers have issues with us on the trail, tell them to call the front desk and ask for her. She definitely felt bad, after I'd shed a few tears (playing the part, you know).
We go to our vehicle to make it to Las Torres before nightfall, put the keys in and it doesn't start. We'd only been inside for 15 minutes, but the battery was dead. We asked all around, we called all the park hotels. No one had jumper cables. We are stuck.
After about an hour of hailing people down and calling around, a mechanic's son has an idea. How about use the backup building generator battery? We put it in our car to get it going, take it out, put ours back in and voilå. Magic. (We don't want to turn off the keys for very long time.)
Finally, we were headed to do the trail from east to west (which wasn't what we were intending). We go to Hotel Torres, park our car and pack up. Andrew's pack is prolly 65 pounds. My pack is smaller and maybe 40 pounds.
We start walking up the mountain at 7p. We are supposed to be camping at the base of Las Torres (which is another 45 minute hike from the campsite). We are told we can make it in 3 hours. We cross some bridges and some fit/exhausted people coming down are warning us. "It took us 3 hours, and we didn't have any packs."
It gets dark around 9:30 or 10 here. We walk a bit more, I see Andrew's pain (although he's being a trooper) and realize, "We aren't backpacking this trip."
We'd brought a whole suitcase of backpacking gear across Argentina, paying overage fees and compromising all our space. We didn't know what we'd do instead, but thought we'd try to find a place to sleep.
Hotel Search
It's a very expensive park. Hotel Lago Gray's standard room was $650 a night. Hotel Torres was $450 a night. We know we want to do day hikes in the park and don't want to leave, but have no clue what our alternative would be with the high costs and lack of camping reservations.
We start driving and see this idyllic island hotel you get to by travelling across a footbridge. It's getting late, by this point (9p) and we go just to see how much it is and grab dinner at the restaurant. We've prepared ourselves for the worst (cost wise) and this place is just too ideal. It's the most beautiful spot we've seen in the park. It's on the water and has an epic view of the mountains.
We park, cross the wooden footbridge, go up to the counter and tell the really nice attendant we will probably just eat dinner here, but want to know how much it is a night. He tells us $150 USD. We look at each other, and turn back to him. "We'll take 3."
Going back to our car to bring our things in was just bliss. What an unbelievable place! How did we get so lucky?
We had been up since 5:30 in the morning, took some crazy routes, had to cross a border, grocery shop, didn't have reservations, our battery died, we packed all our backpacking gear, turned around on our hike and finally found the most perfect place to stay. This was probably the most spontaneous and adventurous day of our trip, where all these unexpected things happened, but we just had to go with the flow and things just ended up working out just fine.
This is a day that represents what travel is, that you have to leave your expectations at the door and is a reminder that you are not and cannot be in control of everything. It was the most adventurous day and we slept so well.
Torres Del Paine
Torres del Paine was stunning. Definitely one of the top 3 parks I've been to and in Andrew's top 4. I was captivated by everything so foreign. Even the moss.
On our first full day in Torres del Paine, we caught the ferry out of Pudeto to Paine Grande. From there we hiked up the French Valley. It was actually warm that day. We met a lot of people along the way. We had so much fun hiking together.
On our way back to the ferry, we saw blood on the ground. Andrew, the paramedic that he is, comes to the group ahead of us and finds out it's this woman's nose. He is a bit insulted that she's not taking his "bloody nose" advice. (We found out the next day on the ferry, as he called the same 70-something year old lady "a beast," she was a doctor. Ha ha.)
We got back from our 16-mile hike and waited for the ferry by the water. Andrew massaged my feet for a fair bit of time and everyone else jealously watched. What a sweetheart.
We didn't realize we were going to walk THAT much that day, and it definitely took its toll on bae. That night, we went back to our hotel.
The food in Chile really wasn't good. I'm sure there are great options in Santiago, but Puerto Natales did not have much to offer and the food in the park was hugely lacking.
The next day, we took a ferry to go see Glacier Grey. It was really expensive (like the whole park), but a really relaxing ride. We'd heard ahead that a glacier is a glacier. This was the one we saw in S.A. It was big. It was blue. It was… a glacier.
It was pretty cool that they went ice fishing, which means they went fishing for ice to use in our drinks. The ice was older than the liquor for sure.
That afternoon, we went to Explora Hotel to take a look, have a drink and relax. Explora is more modern, but super pretentious feeling.
After that, we went back to our hotel, had dinner on the island hill and looked at the view. We also had these little duckling chicks we'd see everyday. I don't remember the species, but the mom is brown and the dad is white. If the mom dies, the dad dies, they say – of heartbreak. If the dad dies, the mom goes to find another mate.
El Calafate Again
We headed back to El Calafate to eat good food and relax. We went swimming everyday in the pool, got a massage and walked a bit less.
Il Machiatto
Of all the places we ate in El Calafate, Il Machiatto had the best food and service. It was more European than a lot of other places (although Pura Vida also had alternative selections). The desserts were divine. Plus, remember how we took a Malamado bartending class? And they no longer had dry Malamado?
We ordered Malamado to go with our dessert. The owner knew it was our honeymoon. He brought us Malamado. We tasted it and I knew it was the dry kind. I asked him about it. He said, "Yes! Yes! This is the last bottle in the country! I have the last bottle and I wanted to share it with you!"
Our next time there with friends, he did the same thing. He insisted on serving such a rare and special thing because those special things (and moments) are meant to be shared. So nice. Cannot say enough good things about that man, that place and the fact that they pick you up and drop you off at your hotel for free. :)
All in all, El Calafate was great. Andrew went fishing. I know we need to come back, but when we do, we will definitely hit up El Chalten. We couldn't fit it in, but know it's really special.
Next stop… Southern Patagonia. Where the landscape only gets more whimsical and the Darwinian vibes only go up, up, up.