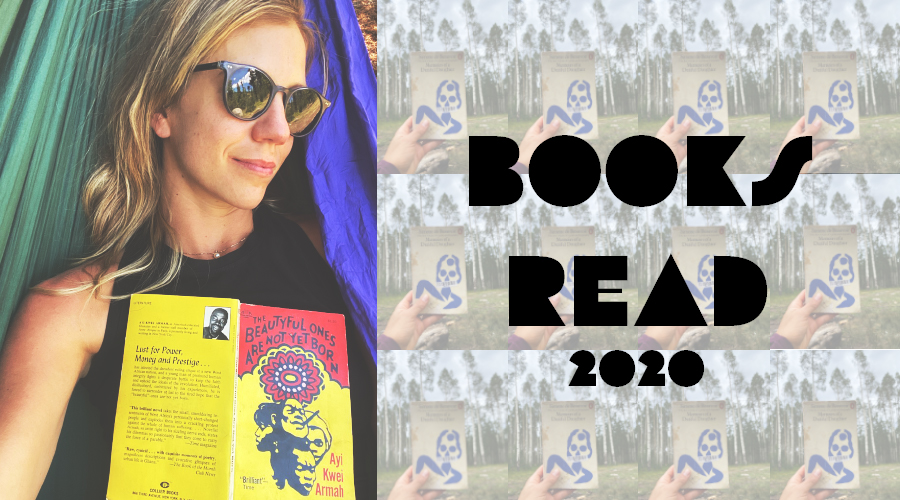 Books Read 2020
My books read for 2020 reflect the craziness of the year. I read only 41% of the books I read the year before. Boo hoo me. I put a pause on my book, although I'm about 60% through. With all the "extra time," it's strangely hard to think or be creative in the same way.
It's all a part of this "paradox of progress" (a title of one of my chapters). Feeling like you're in motion, like it's a positive, like a greater than before, while still living according to the rules of history and being subject to the effects of technology. I feel like so much of last year is just a big sneeze. The earth saying, "See" to the inevitable consequences we chose to disregard. I'm content with my place. Fortunately, I can say that. There are people all across the globe who are suffering far worse than I can ever imagine. We have it so lucky in the US. At some point, when you reach the point of hunger, hunger = hunger, world-wide. When you think about things like sanitization, clean water, privacy, a bed, government relief, freedom of speech, income potential, there are the poorest of people experiencing none of the above, for a whole different level of poverty.
Alas, my brain for the last months has still been on hyper drive and we went through a ton of physical changes based in part on the apocalyptic stuff happening across the west. Here's what I made it through last year followed by recommendations.
1. Beyond Good and Evil by Friedrich Wilhelm Nietzsche ***
2. Deep Nutrition by Dr. Catherine Stranahan *****
3. The Art of Perspective by Christopher Castellani *****
4. The Power of the Dog by Don Winslow *****
5. Jerusalem by Alan Moore ****
6. Grapes of Wrath by John Steinbeck *****
7. All the Pretty Horses by Cormac McCarthy ****
8. The Crossing by Cormac McCarthy *****
9. The Likeness by Tana French *****
10. Poems by Akhmatova ; translated and introduced by Stanley Kunitz with Max Hayward *****
11. The Gulag Archipelago by Aleksandr Solzhenitsyn *****
12. Journey to the End of the Night by Louis-Ferdinand Céline *****
13. Cities of the Plain by Cormac McCarthy *****
14. Normal People by Sally Rooney *****
15. Women Who Run with the Wolves by Clarissa Pinkola Estés, PhD *****
16. The Storyteller by Jodi Picoult **
17. The River of Lost Footsteps: A Personal History of Burma by Thant Myint-U ****
18. Faithful Place by Tana French ****
19. Little Fires Everywhere by Celeste Ng ****
20. An American Marriage by Tayari Jones *****
21. Homegoing by Yaa Gyasi *****
22. The Bone Clocks by David Mitchell ****
23. Latecomers by Anita Brookner *****
24. Brideshead Revisited by Evelyn Waugh *****
25. Cristodora by Tim Murphy *****
26. Margaret Fuller: A New American Life by Megan Marshall ****
27. Memoirs of a Dutiful Daughter by Simone de Beauvoir *****
28. The Way We Think: Conceptual Blending and the Mind's Hidden Complexities by Gilles Fauconnier and Mark Turner ****
29. The Beautyful Ones Are Not Yet Born by Avi Kwei Armah *****
30. People Who Eat Darkness: the Fate of Lucie Blackman by Richard Lloyd Parry ***
31. The Last Mrs. Parrish by Liv Constantine **
32. Focault's Pendulum by Umberto Eco *****
33. Freedom by Jonathan Franzen *****
34. Changing My Mind by Zadie Smith ****
35. Spud by John van de Ruit *****
36. When Nietzsche Wept by Irvin D. Yalom ***
37. Chimes of a Lost Cathedral by Janet Fitch ****
38. Sex and Rage by Eve Babitz *****
39. The Lying Life of Adults by Elena Ferrante *****
Top 5 Books of 2020
Freedom
Franzen does it again, and as usual. It was especially interesting to read this during covid, with the weight of overpopulation at the philosophical basis of this. Franzen always captures family dynamics super well. Love that Walter in many ways becomes Patty was with the neighbors, by the end of the book. Love his love for her and while Patty isn't as likable as Walter, maybe (if you're looking at good person vs not as good), she certainly becomes very understandable. Her awareness of her need for Walter is a pivotal part of the book and what happens when losing something (someone?) you don't realize you rely on so heavily. Three cheers for Freedom!
Grapes of wrath
"Im hungry." "No you ain't. You had good mush."
Love Steinbeck. This book takes place during the Great Depression. Poignant part: printing thousands of fliers so people move out to California by the droves during the depression, only to make it so competitive that you can pay them whatever you want for them to spend the little they earn at your on-site overpriced grocery store.
Christodora
Super intense!! The heroine scenes were so real I squirmed and squinted my eyes. Really amazing book with realistic descriptions and super solid vocab. :)
The Beautyful Ones Are Not Yet Born
"You are like the chichidodo. The chichidodo hates shit, but he eats maggots which grow best inside the laboratory."
What an intense read about corruption in Ghana. It's as if it's the way of the world. Everyone needs to move further and it makes you wonder to one end, if you're not better off fending for yourself (as is human nature) than resting on your laurels in misery.
Spud
South African read. My favorite thing (remember, read this during covid) is Spud's dad's fear of the end to apartheid. He's gearing up, collecting food, guarding his house, trying to keep lights off at night, planning their move to Malta, buying a dog to save them from "the blacks" looking to murder them. Apart from the obvious racism of all this, it's a reminder that in different times of history, others have had the thought before that their world will completely change and they best prepare for it with stocks, protection and fortresses to survive.